Years ago a friend of mine leased a gray Lincoln Town Car.
That was back when a Lincoln was the size of a small studio apartment.
A few months into the deal, he stopped making payments and I couldn't figure out why.
He had a good job.  Money didn't seem to be an issue.  He was smart and perfectly aware of the inevitable consequences.
Before long, curiosity got the better of me and I asked him why.
"I want to see how long I can get away with it," he said.
He loved dodging repo men, outmaneuvering menacing tow trucks, and sidestepping phone calls.
He managed to get away with it for quite awhile, maybe 7 or 8 months.
But eventually the caper was up.  Thanks to the diligence of Ford Motor Credit's henchmen, the big gray Lincoln Town Car vanished in the night.
The same thing happens when you chase a high yield dividend stock.
All you're doing is delaying the inevitable.
High dividend stocks have an annoying habit of turning into low dividend stocks, and vanishing like my friend's Lincoln Town Car.
How To Avoid The Meltdown Of High Dividend Stocks
When you chase after high yield, and high yield is your #1 consideration, you've set yourself for a rendezvous with heartbreak.
My associate Michael Jennings says high yield stocks are home wreckers.
I couldn't agree more.
What's the alternative to chasing high yield?  Do you really have to settle for a yield that's low?
Not when you focus on finding dividend stocks where there's dividend growth.
And dividend growth happens when earnings per share are growing.
The Road Ahead For Dividend Stocks
We should always take market forecasts with a grain of salt.
But it sure was interesting a few months ago when Goldman Sachs released a forecast that predicted over the next decade, 46% of the market's overall returns will come from dividends.
That's not exactly a huge historic shift.  Since 1926, dividends have delivered 40% of the stock market's annualized total return.
But the report from Goldman Sachs is a great reminder of the impact of dividends and the importance of dividend growth.
The Best Dividend Stocks To Own
The way to find the best dividend stocks to own is to focus on growth.
Go beyond thinking in terms of pure growth stocks, where the share price soars, but where the dividend itself grows.
You can measure this by looking at the dividends paid year-to-year.  See how they grow.  Find solid track records that are likely to continue.
What's a good growth rate?  For stocks on the S&P 500, the current dividend growth rate is 11.67%.  That's high… more than twice as high as the long-term average.
This double-digit growth is a pretty good indication that we could soon see a slowdown.  This kind of growth is hard to sustain over the long haul.
The dividend stocks that can weather this storm and continue to grow are stocks where revenues will grow.  We're looking for companies where there will be higher earnings per share, not just growth in income.
What kind of companies?
The ones that gut it out in good times and bad.  You can find many of them on the lineup of the S&P 500 Dividend Aristocrats.
And the high yield stocks to avoid?  Here are three stocks ready for the dividend repo man to come around.
Don't count on the yield you see today being there for you a year from now.
Navios Maritime Partners LP $NMM pays a yield of 20.87%.  The stock has taken a brutal hit over the past year because of problems in China.  Navios is in the business of shipping, it's used to ship a lot of Chinese steel, and there's simply not much steel to ship these days.
So the revenue problem with Navios probably won't be fixed anytime soon.
Even though the dividend has been growing for seven years, the dividend payout ratio is downright scary… 295%.
(One thing you've got to love about Navios is its address.  The firm is headquartered in Monaco.)
Orchid Island Capital Inc. $ORC pays a yield of 18.50%.  It also pays its dividends monthly.
But the dividend payout ratio is dangerously high… 152%.
Orchid Island invests in residential mortgage-backed securities, mostly single-family residential mortgage loans.
The yield is high because the stock price has been beaten down.  And the stock has been beaten down for a good reason… the company is losing money at an accelerating and alarming rate.
Losses in 2014 were almost 10 times what they were in 2012.
At this rate, how safe is the dividend?  How long until it is cut, and how severe will the cut be?
Things don't look good.
The Carlyle Group L.P. $CG pays a yield of 17.49%.
The private equity firm calls itself "a global alternative asset manager".
Carlyle has been a publicly traded company since 2012.
The Bin Laden family invested $2 million into a Carlyle fund in 1995.  Weeks after the attack on New York City's World Trade Center, the Bin Ladens and Carlyle went their separate ways.
It runs more than 100 funds, many for public pensions, and controls close to $200 billion in assets.
But things at the Carlyle Group aren't going well.
The stock has lost almost a third of its value in the past year.  Income is trending down.
And the warning signals for dividend investors couldn't be louder… the dividend payout ratio is a dangerous 143%.
That's a clear indication the Carlyle Group is living beyond its means when it comes to paying dividends.  Things just can't keep going this way.  It's only a matter of time until the dividend is cut and the high yield goes away.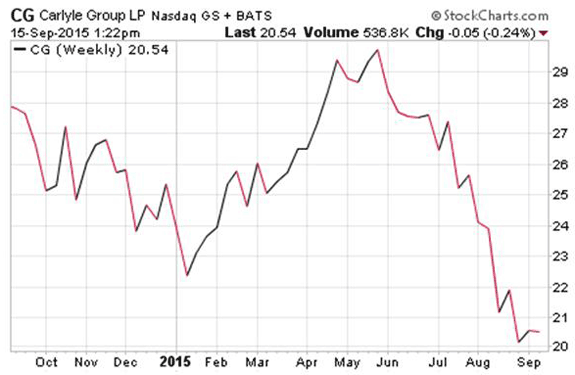 How To Be Prepared For High Dividend Stocks To Tank
These three stocks are poster children for high dividend stocks about to get in trouble.
The risks are extreme.  The warning signals are clear.  And the future, for one reason or another, is grim.
That's usually the case when you take a closer look at high yield dividend stocks.  There's usually at least one good reason why the yield is high, and at least one reason why smart dividend investors stay away.
Just like the repo man eventually took off with my friend's Lincoln, somebody's going to take your high yield dividend off the table.
The good news…
You can usually see it coming.
Cordially,
Paul Duke
Note:  Paul Duke writes and edits DividendStocksResearch.com.  Sign up for our free dividend reports and dividend newsletter at https://www.dividendstocksresearch.com/free-sign-up.  We'll show you how to create regular income by investing in dividend stocks, easily, step-by-step.
Category: Dividend Yield