You wake up in a cold sweat.
It's a nightmare that haunts you and hammers you with the raw hurt of hindsight.
Hindsight is more than 20/20.  For investors, it's both painful and helpful.  When we look back on an investment that didn't work out, it's way too easy to see what went wrong.
What's not so easy is looking ahead.  Any kind of forecasting we do is going to be flawed.
Just ask a weather forecaster.
And when it comes to investing in the best dividend stocks, the highest yielding ones are usually stormy.
The skies might seem clear the day you invest in them, but you can usually bank on unsettled weather ahead.
Are there signals to watch out for?  Anything you can look for like high-pressure systems and low pressure systems?
Definitely.
The very first is high yield.  There's typically a reason why yield is high.  The higher the yield, the higher your risk.  There's no way around it.
So here's what to do.
Set yourself a limit.  Give yourself a number and stick to it.  Refuse to invest in a dividend stock that pays more than a certain percentage yield.
Don't fall into the trap of telling yourself, "Well, it's different this time.  This is an exception."
I'd suggest making 10% your limit, and that's stretching it.  You usually don't find a dependable, safe dividend stock paying more than a 5% yield.
What about the dividend stocks in between?  Should you even think about a stock that pays a 7% or 8% yield?
Sometimes.  Let me show you a few ways to figure this out.
Invest In Dividend Stocks Where The Dividend Grows
Here are 3 stocks that have been growing their dividends…
The simple fact that dividends have been growing makes each stock a contender.
The question we need to ask is, "Can the dividend growth keep going?"
To find out, we start off with a look at the competitive environment for each stock.  Our challenge is to determine how hard it's going to be for these companies to make money in the years ahead.
Senior Housing Properties Trust looks like it has a rosy future.  It's a REIT, a real estate investment trust, and it owns a portfolio of senior living communities.
Demographics are on its side because of America's aging population.  Chalk one up in the win column for $SNH.
Vector Group is tougher to figure out, because it's in two different businesses that have nothing to do with each other… mortgages and cigarettes.
There's no well-defined future for either business.  Sure, fewer people are smoking, but can Vector do well with e-Cigarettes?  Tough to say.
Mortgages?  They'll probably never go away, but how will they change, and how well can Vector do with them?
Chalk one up for undecided.
Buckeye Partners Ltd. $BPL performs almost as well as Ohio State's football team.
Revenues and earnings at this MLP (Master Limited Partnership) in the pipeline business have been trending up.
You could find worse segments of the energy business to invest in than pipelines.  Even when natural gas and oil prices are low, the stuff's got to flow.
So we have these three dividend stocks.  We need to get a sense if the dividend can keep growing.  Here's what we know…
Senior Housing Properties Trust $SNH pays a 10.2% dividend.  It's been growing the dividend for the past five years.
Vector Group $VGR pays a 6.5% dividend.  It's been growing the dividend for the past four years.
Buckeye Partners Ltd. $BPL pays a 6.8% dividend.  It's been growing the dividend for the past 12 years.
Which one of these stocks is a nightmare, which one is nothing to get excited about, and which one deserves your attention?
Playing It Safe With The Highest Yielding Dividend Stocks
Finding the highest yielding dividend stocks isn't hard.  The trick is to find one where high yield can be counted on to grow.
You can make a case for each one of the three high yield dividend stocks we've looked at.
And there's not one that is a clear-cut clubhouse leader.  If you were to pin me down, I'd probably toss Vector Group off the list of suspects because of the strange combination of businesses.
Cigarettes and mortgages might be fine as solo businesses where there's a single strategic focus, but together they seem as strange as a spoonful of mustard in a cup of coffee.
I'd pass on Vector.
Your tax considerations come into play when you invest in a stock like Buckeye, because the MLP income is taxed in a special way.  Get some feedback from your accountant first.
If you're OK with investing in an MLP, keep in mind that the dividend could shrink if the stock price grows.  With growing demand for Buckeye's pipelines and revenue growth, this could easily happen.
Not a bad problem to have.  And don't forget, Buckeye has been growing its dividend for the past 12 years.
Safety?  Because it's in the pipeline business, the stock price has held up well while most energy stocks have been brutalized…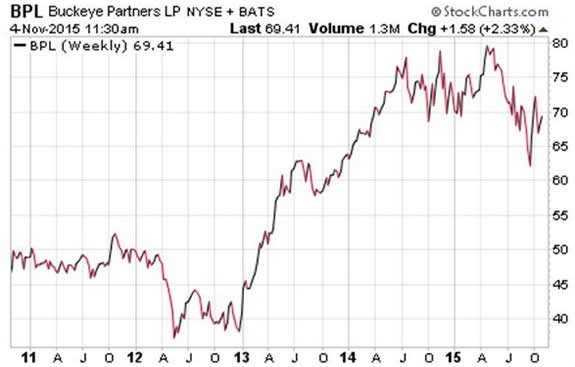 That leaves us with Senior Housing Properties Trust $SNH and its 10.2% dividend.
A little rich for my blood.  You can't help but wonder how many things have to go right for this kind of yield to hold up for the long haul.
Yes, the stock is a REIT, a Real Estate Investment Trust, so it's a machine built to deliver income.  You expect a higher yield with a REIT.
But 10%?
If you go into this high yield dividend stock with eyes wide open…
If you keep in mind that for the past few years REITs have been on a roll and you could be paying a premium…
You'll be able to make a decision that makes sense for your portfolio, so you can find the highest yielding stocks for safety.
You'll be able to avoid the nightmares.  No waking up in a cold sweat.
Cordially,
Paul Duke
Note: Paul Duke writes and edits DividendStocksResearch.com.  Sign up for our free dividend reports and dividend newsletter at https://www.dividendstocksresearch.com/free-sign-up.  We'll show you how to create regular income by investing in dividend stocks, easily, step-by-step.
Category: Dividend Basics