The highest yielding stocks for safety don't stagger in off the street and just crash the party unannounced.
They show up with a reputation.  A good reputation that's been built on 25 years of paying dividends.
This track record is the first thing you should look for because it's a common ingredient… all the winners have it.
The highest yielding stocks that give you safety have been paying – and growing – their dividends for the past 25 years.
But don't just invest in a dividend stock because it's been on a 25-year roll, because there's something else to consider.
How much you're paying for the yield and for the safety.
Go in with eyes wide open.  Recognize that you're usually paying a premium for the stock's good reputation.
The trick is to avoid paying too much of a premium.
And you don't want to pay too little.  This can easily happen when you're buying a stock that's on a downhill slide.
Just because you see a stock has hit a 52-week low doesn't mean it's time to buy.  It might be the time to stay on the sidelines, be patient, and wait to see what happens with the price.
Some good advice on this investing strategy comes from a guy who's been dead for more than a hundred years.
He wasn't an investor, a businessman, or an economist.  John Ruskin was an art critic in Victorian England.  Ruskin wrote…
It's unwise to pay too much, but it's worse to pay too little.  When you pay too much, you lose a little money – that's all. When you pay too little, you sometimes lose everything, because the thing you bought was incapable of doing the thing it was bought to do.
How To Pay The Right Price For The Highest Yielding Stocks
Start with Ruskin's advice.  Don't let your thirst for a terrific deal determine the price of the stock.  Bottom fishing is fine, but every skilled trader out there will tell you not to try and catch a falling knife.
When a stock price is falling, let it fall.  The trend is your friend.
When expectations are high, and it looks like the dividend growth will stay strong, investors drive up the price.  When the stock price goes up, the dividend yield falls.
It's basic arithmetic.  Just keep in mind it works both ways.
When expectations are low, the stock price tumbles.  And when the stock price tumbles, up goes the yield.
Investors aren't as smitten with the prospects of future cash distributions as they once were.
There may or may not be a good reason for this.  A lot of times, there's not a good reason, just a market overreaction, which means it's a good time for you to pick up the stock.
If you can find a stock that's been paying dividends for 25 years…
And if you can find a yield that's higher than the stock's historic average…
You've probably found one of the best highest yielding stocks for safety.
The Highest Yielding Stocks On The S&P 500 Dividend Aristocrats
The 53 stocks on the lineup of the S&P 500 Dividend Aristocrats have been paying growing dividends for 25 years.
They're the stocks that show up at the party with a good reputation.
But a couple of them have been roughed up over the past year.
The oil price collapse has pounded Exxon Mobil $XOM and Chevron $CVX.
Another Aristocrat that's been hammered is HCP Inc. $HCP.
HCP is an interesting member of the Aristocrats.  It's a REIT, a real estate investment trust.
And it's the only REIT that's an S&P 500 Dividend Aristocrat.
The company has been around since 1985 and focuses on health care industry real estate… it invests in medical office buildings, senior housing, and skilled nursing facilities.
In April, interest rate jitters meant just about every REIT took a hit.  Overall, they were down almost 5%.
HCP was hit even harder.
When Q1 2015 earnings were announced, and investors saw a one-time charge of $481 million, the stock price plunged.
And just to cause even more grief, word came out that the company is now dealing with lawyers from the U.S. Department of Justice.  They're probing what's alleged to be unnecessary therapy at some nursing homes.
So it hasn't been the best of times for HCP.
But is it time to invest?  Has anything fundamentally changed?
Is HCP a different business today than it was earlier this year?
I don't think so.  Over the past 10 years, HCP has been digesting its setbacks, and the stock has been moving higher.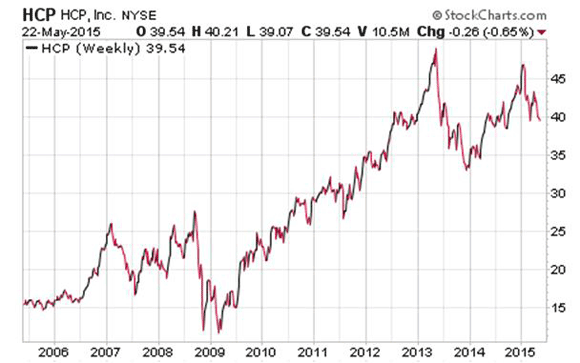 It's one of the best highest yielding stocks out there.  The yield is 5.70%.
Back in the middle of January, it was a $47 stock.  Today it trades in the high $30s.
This means HCP is a poster child for the kind of stock that combines both a high yield and safety.
Just remember…
Dividend Aristocrats Don't Come With Guarantees
That's why I've often wondered, can you predict the death of a Dividend Aristocrat?
Is HCP the next Aristocrat to be tossed off the list because it can't keep the dividend growing?
Doubtful.
Total cash flow is growing.  So is total revenue.
Sure, there are dents and scrapes on the balance sheet, but nothing ugly.
For high yield and safety, this is the kind of stock you should look at, and be prepared to hang onto.  The business isn't going away.
As long as doctors need offices, and an aging population needs nursing homes and assisted care facilities, HCP will pull in revenue.
And right now, because it's paying a yield that's higher than its historic average, you've got some safety.
The Highest Yielding Stocks Mean Maximum Income
Stock prices rise and fall.  They hit high notes and low notes.
When there's no dividend, the stock price is obviously all you've got.
When you own a stock that's been able to pay a growing dividend for 25 years, you can use these ups and downs to your advantage.
Swoop in when the price has been roughed up, and you can get a good deal on the highest paying dividend stocks.
Sell your top dividend stocks when the price rebounds and the dividend yield goes down.
These are the kinds of stocks to buy now.
These are the best dividend stocks that will keep you as safe as possible.
Regards,
Michael Jennings
Note:  Michael Jennings writes and edits DividendStocksResearch.com.  Sign up for our free dividend reports and dividend newsletter at https://www.dividendstocksresearch.com/free-sign-up.  We'll show you how to create regular income by investing in dividend stocks, easily, step-by-step.
Category: Dividend Yield