Looking for a deal?
Want to check out the best dividend stocks on sale right now?
I worked for a guy years ago who hammered home a terrific piece of advice.
"Never pay retail."
Pretty good advice boiled down to just three words.  And it's especially good advice for a smart dividend investor.
It gets you thinking about what you're actually paying for…how much you should pay, and if there's a better deal someplace else.
In the world of dividend investing, there's no need to pay retail.  Just look at a couple of numbers and you can find the top paying dividend stocks.
Here's how to know if the price tag you see means you're picking up a bargain…
Best Dividend Stocks Price Tag #1
What is retail?  What's a normal, everyday price for a stock?  How do you know you're paying a fair price?
Here's one way of looking at it.
The price of the stock is set by the market, and only by the market.
Apple $AAPL CEO Tim Cook doesn't wake up in the morning and say the stock will open trading at $125.
The market makes this decision.  But here's something that only a handful of people understand.
When it comes to setting prices, the market is basically flakey.  It is irrational, even manic-depressive.
This fact is tough to accept.  We like to think that when billions of dollars are at stake, stock prices are based on something solid.
That's not always the case.
And the investor who was Warren Buffet's #1 teacher knew this strange fact all too well.  He understood that stock prices are irrational.
His name was Benjamin Graham.  Here's something Graham said that shows how obsessed he was about buying stocks on sale…
If you are shopping for common stocks, choose them the way you would buy groceries, not the way you would buy perfume.
Graham said something else about stock prices.  He told us there is only one thing the ups and downs really mean…
Basically, price fluctuations have only one significant meaning for the true investor.  They provide him with an opportunity to buy wisely when prices fall sharply and to sell wisely when they advance a great deal.
This is why you can always find a good dividend stock on sale.
The moods of the market can take a good stock and send its price plunging for no good reason.
It's like going to a clearance rack and seeing a coat marked 20% off.  It's the same coat that cost $100 yesterday… today, you can get it for $80.
Best Dividend Stocks Price Tag #2
How do you find these "On Sale" price tags?
Start off by knowing the real retail price.  A good way to measure this is with the Price- Earnings Ratio. (P/E Ratio).  Along with yield, it's a terrific way to see how dividend stocks are performing.
It's a simple number, and Warren Buffet's teacher, Benjamin Graham, drilled it into him as a great way to size up the price of a stock.
The P/E ratio is how much you pay for a dollar of a company's earnings.
If the company earns $4 a share and the stock sells for $40, the P/E ratio is 10, the $40 stock price dived by the $2 earnings.
But don't worry about doing the math.  When you look at your favorite finance site and get a detailed quote for a stock, you'll see the P/E ratio.
Most of the time, the lower the P/E ratio, the better the deal you're getting, because you're paying less for earnings.
After you've done some poking around, you'll discover that different kinds of stocks have different P/E ratios.
Here's an example.
For instance, a stock in an industry sector where not much growth is expected will have a lower P/E than a stock in an industry where there are prospects for strong growth.
This moves in cycles.
The market goes through a stretch where everybody loves bank stocks.  Then, for whatever reason, banking falls out of favor.   Another industry that wasn't considered attractive suddenly looks more attractive.
It happens all the time.  Yesterday's bum is tomorrow's hero.
A good way to see how a certain industry is priced is to check out the P/E ratio for an ETF that tracks the sector.  Then you can drill into some of the stocks in the sector.
The Technology Select Sector SPDR ETF $XLK has a P/E ratio of 18.
Apple $AAPL has a P/E ratio of 17.05. The Oracle $ORCL P/E is 18.55.  You pay retail for each stock.
You pay a premium for Google $GOOG with a P/E at 26.69.
But IBM $IBM has a P/E of 13.69.  It's a tech dividend stock on sale.
Best Dividend Stocks Price Tag #3
Make sure the sector you're looking at isn't priced too high compared to the overall market.
We've seen from the ETF that the technology sector P/E ratio is 18.
That P/E mirrors the overall market.  Check out the SPDR S&P 500 ETF $SPY and you'll see the P/E ratio for the S&P 500 is 19.
Tech is a little cheaper, but not by much.
Consumer staples… a little more expensive.  The Vanguard Consumer Staples ETF $VDC has a P/E ratio of 20.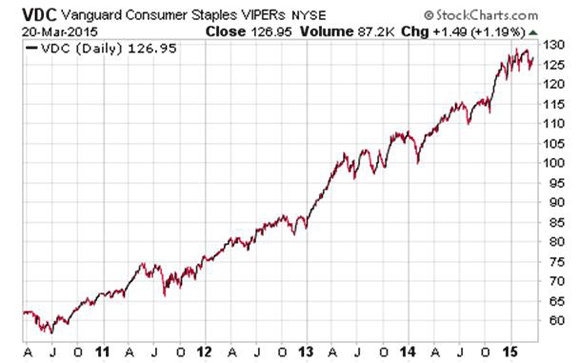 More Ways To Use The P/E Ratio to Find The Best Dividend Stocks
Here are a couple of other things to keep in mind about the P/E Ratio.
Just because it's climbing higher doesn't mean you're taking on more risk.  If your company makes more money this quarter than it did last quarter, and the number of shares available is the same, the P/E will go up.
Not a bad thing.  We obviously want profits to rise.  But if there's a sharp and sudden spike in profits, it's good to know why.
Also…
If there is a stock buyback program, and the number of shares available goes down, the P/E ratio will go up.
And there's a history lesson to keep in mind.  Dividend stocks usually have lower P/E ratios than stocks that don't pay dividends.
Knowing your history, and knowing how the P/E ratios compare for different types of businesses, can keep you out of trouble.
It's a great way to make sure you don't get caught in this tricky dividend trap.
Now You Know How to Shop For Dividend Stocks At The Sale Rack
Just like Warren Buffet's mentor, Benjamin Graham, you can blow off retail pricing.
You can use the P/E ratio to zero in on bargains, and find the best stocks that pay dividends.
Why take risks when you don't have to?
And why pay retail?
Go check out the sale racks before they get too crowded and prices go up.
Regards,
Michael Jennings
Note:  Michael Jennings writes and edits DividendStocksResearch.com.  Sign up for our free dividend reports and dividend newsletter at https://www.dividendstocksresearch.com/free-sign-up.  We'll show you how to create regular income by investing in dividend stocks, easily, step-by-step.
Category: Best Dividend Stocks