So, I was poking around online and I found a very interesting company.
They're based up in Canada, and they pay a great little dividend.
So of course, I did some research… what I uncovered was amazing.
First, A note about Canada.
It's not often I look at stocks in Canada. Sometimes buying these stocks can be difficult. For example, I went to my broker and they told me I can't buy the stock at all.
What's crazy is the difficulty US people have trading the stock…
Despite our close relationship with Canada, and the fact that they are our brother in arms in fights around the globe, Canada is still a foreign country.
As a result, the SEC and US Government regulations are strict.
Hopefully some day that changes, and the reach of the US investor to overseas investments eases. But until then, it will be a hassle.
Anyway, once you have the ability to buy Canadian stocks on the TSX as a US citizen, you can then move on to the more difficult step… Research.
Researching small Canadian companies is no different from looking at US listed companies.
You need to do your research.
Look at Revenue, Expenses, the Gross Margin… and Profits.
The Dividend Payout is also KEY.
So where do you get that information?
I always start with sedar.gov… it's just like the US government's Edgar.gov archive system.
If you don't know about EDGAR, you shouldn't buy stocks… and if you don't know about SEDAR, you shouldn't buy Canadian Stocks!
It's as simple as that.
Once you review those documents, you can also hit the company website and read those documents too.
That's where I learned more about this interesting company.
Exchange Income Corporation, a Canadian company that invests in profitable, well established companies with strong cash flows operating in niche markets. Their goal is to send shareholders monthly cash dividends!
What a great story.
You get two of my favorite things all rolled into one… dividends and small company growth!
So what caught my eye about this company?
It was their press release announcing Q2 numbers.
The company reported revenue of $274 million, EBITDA of $28.4 million (which is 10%), and net income of $4.1 million.
While not without its struggles, the thing that I liked… numerous divisions were contributing money to the parent corporation for distribution of cash dividends.
The company also reported working capital of $267 million.
And management's outlook is very optimistic.
So I dug further… the stock tends to gyrate between $15 and $26, and as I write, this is trading for $19 a share.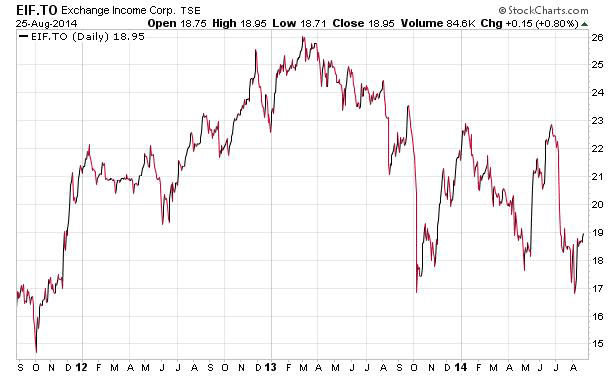 I think there's upside here… but what really attracted my attention is the dividend.
So the latest announcement was for a $0.14 dividend. Initially that seems so unimpressive… until you realize it's on a MONTHLY basis.
So let's do some quick math.
$0.14 per month is $1.68 … looking good.
The stock price is $19. So $1.68 divided by $19.00 is .0.088 or 8.8%.
This company is paying an 8.8% dividend! WOW.
Take a look and see if it fits your investment strategy.
Category: Dividend Stocks To Buy?