Dividend investing breakthroughs aren't usually the result of home runs from single stocks.
Breakthrough dividend performance is a team effort. It's putting together a lineup of different kinds of dividend stocks that work well together.
Go with some of your dividend stocks that pay a yield below 3%, and some with higher yields in the 5%-10% range. Look at some stocks where you think there's a good chance for the actual stock price to go up as well as the steady dividend payments to keep rolling in.
What's in it for you?
Strengths offset weaknesses. Safety balances risk. You've got some of your dividend stocks moving in lockstep with the market, or even underperforming the market, and you've got some others outperforming the broad market averages.
But to get your breakthrough, you need a common denominator.
You need all of your stocks to pay growing dividends.
Where To Find Stocks With Growing Dividends
The best-known collection of stocks that keep increasing dividend payments is the S&P 500 Dividend Aristocrats.
This is where you'll find blue chip dividend stocks like 3M (MMM), Exxon Mobil (XOM) and Procter & Gamble (PG)… stocks that have given investors annual dividend increases for at least 25 years in a row.
There are two other things a stock needs to be an Aristocrat… a market cap of at least $3 billion and average daily trading volume of $5 million.
Those are some serious hurdles, aren't they?
This is why the S&P 500 Dividend Aristocrats get so much attention.
But what about the stocks that grow dividend payments that don't have heavy trading volumes, and aren't huge companies with big market caps?
Here's where to go find them.
Here are four great places to find stocks with growing dividends, and each one of them flies under the radar compared to the S&P 500 Dividend Aristocrats. 
The Dividend Champions – These are like junior versions of the Aristocrats. The Dividend Champions have raised dividends for the past 25 years, but they don't have to be an S&P 500 stock. And there are no liquidity requirements.
The Dividend Achievers – These stocks have increased dividends for the past 10 years, and the liquidity requirements aren't tough. Daily trading needs to be above the $500,000 mark.
The Dividend Contenders – Just like the Achievers, these stocks have raised dividends every year between 10 and 24 years. Unlike the Achievers, there are no liquidity restrictions… the stock does not need $500,000 worth of trading every day.
The Dividend Challengers – These stocks have raised their dividends between 5 and 9 years in a row.
Now that you know where to find stocks that have a history of raising their dividends every year, here's how to get the breakthrough you need for your portfolio.
It's all about balance. It's a simple lineup of different kinds of dividend stocks that offset strengths and weaknesses.
This is why…
Dividend Investing Takes Teamwork
How many different dividend stocks should you have in your portfolio?
The exact number of dividend stocks does depend on your circumstances, here's a basic model you can use.
Shape this model to fit your portfolio. We'll look at three stocks… pulled from the lineups of Dividend Champions, Contenders, and Challengers.
| | | | |
| --- | --- | --- | --- |
| Stock | Yield | Annual Payout | Payout Ratio |
| UGI Corp (UGI) | 2.38% | $0.87 | 46.0% |
| Alliance Resource Partners (ARLP) | 6.30% | $2.55 | 53.5% |
| Global Partners LP (GLP) | 7.08% | $2.61 | 74.4% |
There's something interesting to look at here.
Notice that the higher the yield goes, the higher the payout ratio.
This doesn't happen all the time, but you will see it a lot. You'll even see the payout ratios soar over the 100% mark, which means a company is borrowing money to pay the dividend.
Never a good dividend investing idea, and always a warning signal.
So should you invest in a stock like Global Partners LP (GLP) and go for that 7% yield?
You need to uncover a few things…
Digging For A Dividend Investing Breakthrough
I like to buy stocks on sale, when they're trading below the market's overall Price Earnings Ratio (P/E).
GLP fits the bill… a nice, low P/E of 8.73 compared to the market P/E of 17. No surprise since the company is in the energy business, which has been hammered.
Want to find out what else you need to know?
Check out my article, "How To Find The Best Dividend Stocks For 2015."
There's a tip for you in this article that's relevant to GLP. You want to invest in a company that's in the right business.
GLP is a distributor. It sells oil and gas to wholesalers, retailers, and big companies in the Northeastern states.
That's good… people will keep buying gas. But wildcatters and explorers probably won't be sinking new wells for a while. Distribution is a good piece of the battered energy business to be in right now.
The next thing we want to check out… are we buying the stock at a high? Probably not, because of the energy price collapse. But it would be good to know how GLP stacks up.
We'll compare its performance to the industry leader, Exxon Mobil (XOM), and see if we can learn anything interesting.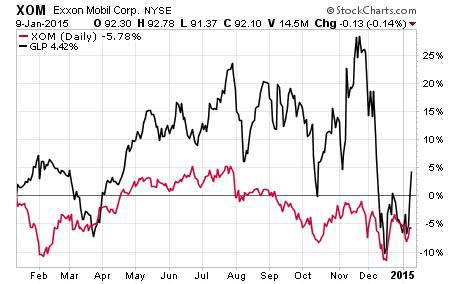 For the past nine months, GLP and XOM have been moving pretty much in lockstep. And despite the whipsaws over the past year, GLP is up 4.42%.
Should you wait to buy on the next dip?
Timing the market is tough. Other investors watching GLP might look at this and say, "If GLP has held up this well through the bad times, just think how it will do when the energy business gets back on track."
Whatever happens, you have found one of those dividend stocks that can pump some extra performance into your portfolio.
And you've found it digging around in the pile of stocks where I like to look… companies that have a history of paying growing dividends.
———————————-
UGI Corp (UGI)
Dividend Yield: 2.38%
Annual Payout: $0.87
Payout Ratio: 46%
P/E: 19.24
Alliance Resource Partners (ARLP)
Dividend Yield: 6.30%
Annual Payout: $2.55
Payout Ratio: 53.5%
P/E: 8.96
Global Partners LP (GLP)
Dividend Yield: 7.08%
Annual Payout: $2.61
Payout Ratio: 74.4%
P/E: 8.73
Regards,
Michael Jennings
Note: Michael Jennings writes and edits DividendStocksResearch.com. Sign up for our free dividend reports and dividend newsletter at https://dividendstocksresearch.com/free-sign-up. We'll show you how to create regular income by investing in dividend stocks, easily, step-by-step.
Category: Dividend Basics