What's going on here?
Why aren't credit companies the best dividend paying stocks?
Are credit card stocks like American Express (AXP), VISA (V) and MasterCard (MA) sleeping giants, ready to wake up and reward dividend investors?
Consider this…
Let's say that today, everybody in America mails off a check to Chase Bank for $390.
All that money wouldn't pay off outstanding credit card debt. And that's just for cards from Chase.
The numbers are massive.
But the dividends are microscopic. Right now, credit card companies simply aren't the best dividend paying stocks.
How can this be?
Everybody in the credit card business is thrilled.
"The current state of the industry is very, very health," says Eileen Serra, Eileen M. Serra, Chief Executive Officer of Chase Card Services at JPMorgan Chase & Co.
So how come dividend investors haven't been invited to the party? Why are the big credit card companies so stingy with dividends?
They crank out steady earnings. Revenues are solid. Both have been on the upswing since the 2008 meltdown. People are feeling good about the economy and pulling out their credit cards.
What's the problem?
Credit Card Companies Are Missing In Action From The List Of Best Dividend Paying Stocks
Look at these lousy dividends.
American Express pays 1.15%, VISA .77%, and MasterCard pays .52%.
You need to go down the list to find Discover Financial Services (DFS) paying anything close to a respectable dividend at 1.49%.
Not exactly generous.
And these are all respectable companies with solid businesses, healthy balance sheets, and a product that's borderline addictive.
Downright insulting, isn't it?
Well, we don't make money getting mad.
We make it by identifying good opportunities, and this could be one of them, the stingy credit card companies.
If you're looking for safe, quality stocks where dividends are about to go up, and become some of the best paying dividend stocks, here's why your search might come to an end on the doorsteps of American Express, VISA, and MasterCard.
And while we're at it, let's not forget Capital One (COF) and Discover (DFS).
The big banks that are in the credit card business like Chase, they've got their hands full with all sorts of other issues. So let's just stick to these so-called pure plays.
First, let's take a look at how the credit card companies stack up. Then, I'd like to show you an intriguing development. It's something that could be the best signal we'll ever have that over the next few months, the dividend floodgates could burst open.
Look at this lineup of what could turn into tomorrow's list of America's best paying dividend stocks…
| | | | |
| --- | --- | --- | --- |
| Stock | Yield | Annual Payout | Payout Ratio |
| American Express (AXP) | 1.15% | $1.04 | 18.7% |
| VISA (V) | 0.77% | $1.92 | 18.4% |
| MasterCard (MA) | 0.52% | $0.44 | 14.3% |
| Discover Financial Services (DFS) | 1.49% | $0.96 | 19.6% |
| Capital One (COF) | 1.49% | $1.20 | 15.7% |
Not one is returning more than 20% of earnings in dividends. Look at MasterCard, with its anemic .52% yield and its 14.3% payout ratio.
MasterCard earnings this year are up 18%. And it hasn't scheduled an ex-dividend date.
The significance of the ex-dividend date…
You need to own a stock before this date in order to collect its next dividend. The dates are usually announced by the company's board.
(If you buy the stock the day before the ex-dividend date is announced, and sell it the next day, you collect the dividend payment.)
Are These New Players Ready To Become The Best Dividend Paying Stocks?
Things could be changing, and here's why.
VISA has increased its dividend. Back in October, it raised its annual dividend from $1.60 to $1.92 a share.
And there could more hikes ahead as VISA keeps delivering strong revenues and earnings.
The payout ratio is low right now, and could drop even lower in 2015.
The company delivers a profit margin of 42.8%. That's the highest it's been in years. It's twice the profit it delivered back in 2006, before the 2008 financial meltdown tanked the credit card companies.
Take a look at how the VISA stock price has been doing the past few years…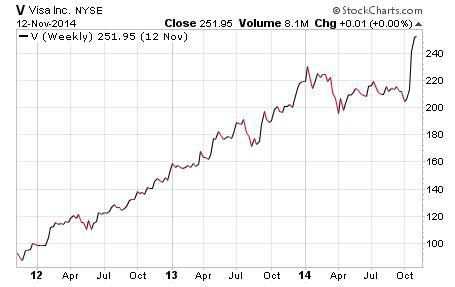 VISA is a bellwether stock, an industry leader that's clearly been on a tear.
It's not exactly what you'd call a cheap dividend stock.
But it is beautifully positioned to increase dividends again…maybe soon.
Which means it's not a stretch to think that American Express, MasterCard, Discover, and Capital One could follow VISA's lead and jump onboard the dividend growth bandwagon.
Here's some other facts you should keep in mind.
The annual purchase volume for American Express is $519 billion. (Imagine owning a piece of a business that processes almost a billion dollars of transactions a week.)
American Express has just come off its 52-week highs.
Why You Should Take A Serious Look At These Dividend Paying Stocks
The ball could drop, and dividends could be going up for these five stocks any time.
These could easily become five of the best dividend paying stocks. They won't be cheap, but you know what?
They're not exactly risky. Not unless you think credit cards are about to go away.
Even as we move to new digital forms of payment, the credit card companies are first in line to cash in.
You've already got MasterCard lined up with Apple. And you know there'll be more partnerships ahead.
Which could easily mean more dividends for investors.
MasterCard (MA) 
Dividend Yield: .52%
Annual Payout: $.44
Payout Ratio: 14.3%
P/E: 29.03
VISA (V)  
Dividend Yield: .77%
Annual Payout: $1.92
Payout Ratio: 18.4%
PE: 28.99
American Express Co. (AXP) 
Dividend Yield: 1.15%
Annual Payout: $1.04
Payout Ratio: 18.7%
PE: 16.83
Capital One Financial Corp. (COF) 
Dividend Yield: 1.49%
Annual Payout: $1.20
Payout Ratio: 15.7%
PE: 10.98
Discover Financial Services (DFS)
Dividend Yield: 1.49%
Annual Payout: $0.96
Payout Ratio: 19.6%
PE: 12.26
Note: Michael Jennings writes and edits DividendStocksResearch.com. Sign up for our free dividend reports and dividend newsletter at https://dividendstocksresearch.com/free-sign-up. We'll show you how to create regular income by investing in dividend stocks, easily, step-by-step.
Category: Dividend Stocks To Buy?