Can you believe this wild ride?
The Wall Street Journal described trading on Wednesday, October 15th as, "frenzied."
Treasury yields have slumped to their lowest level in 16 months. Crude oil futures have slid back to 2012 prices. Professional traders are skittish, and Main Street investors can't seem to shake scary memories of 2008 and 2000.
Pull up any chart you want and you'll see the market has turned lower…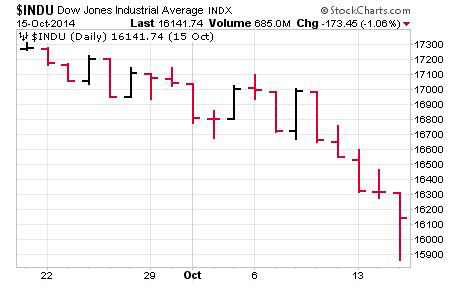 What does all this mean for dividend investors? 
Fortunately, it means some very real shelter from the storm, and no shortage of opportunities.
History repeats itself… and we're seeing it again… When things get rough, dividend stocks historically hold up better than the market as a whole.
And we're seeing it again today.
All you have to do is compare the performance of the Dividend Aristocrats, as tracked by the SPDR S&P Dividend ETF (SDY), with the S&P 500 (SPY).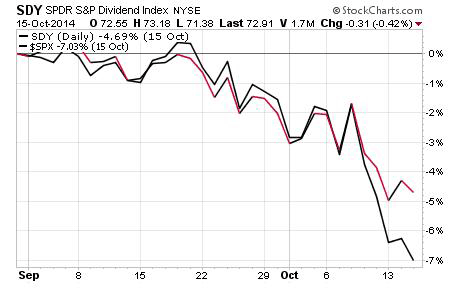 Between September 2nd and October 15th, the Aristocrats were off 5.1%, and the broader S&P 500 was off 7.1%.
Nobody likes taking a 5.1% haircut.
However, it means the high dividend yielding stocks helped protect your portfolio…
So, let's put this in perspective and look at what's been happening…
Google (GOOG) off 8.2%, Amazon (AMZN) off 10.6%, and Apple (AAPL) off 10.3%.
And not to cause undue pain for investors who would rather chase a flashy IPO than a dull dividend stock…
Check out Alibaba (BABA). It began trading September 19th after an IPO. In less than a month, it's 14.1% off its opening day high.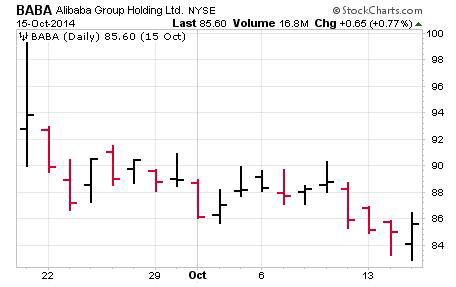 While dividend investors have been hit hard… our wounds are superficial compared to what we see elsewhere!
Look, you're probably nervous about the market… this is just a natural correction.
Do NOT SELL your quality dividend stocks… hang onto them.
And if you have cash in your portfolio ready for a special situation, now's the time to take action! Here are two dividend ETFs you should look at…
What Cautious Dividend Investors Need To Do Today: Reload
If you've been on the sidelines waiting for what you correctly thought was an overheated market to cool down, take a close look at the ETF that gives you America's strongest dividend stocks… the Aristocrats.
You can invest in the Aristocrats by picking up shares of the ETF that tracks them, the SPDR S&P Dividend ETF (SDY).
The Aristocrats definitely add some class to your portfolio. The Aristocrats are solid, blue chip S&P 500 companies that have increased their dividend payouts for 25 years in a row.
The P/E ratio for the ETF is 18x, which comes in just a little higher than the overall S&P 500, which is 17x.
SPDR S&P Dividend ETF (SDY)

Dividend Yield: 2.46%

Annual Payout: $1.80

Payout Ratio: NM
However, if you're looking for something a little more aggressive…
What More Aggressive High Yield Dividend Investors Need To Do Today: Go Global
For high yield dividend investors, The WisdomTree Emerging Markets High-Yielding Equity Fund (DEM) is a great way to get broad exposure to dividend paying stocks in emerging markets.
Even though it invests in large cap, value stocks, the ETF has taken a beating. Russian oil companies and Chinese banks, which are concentrated in the fund, aren't exactly lighting it up right now.
But the ETF pays a 10.85% yield, the P/E ratio is an attractive 8.0x, and remember, the ETF's diversification, its broad holdings, can help soften the blow of market downdrafts… like we've all been hit with.
WisdomTree Emerging Markets High-Yielding Equity Fund (DEM)

Dividend Yield: 10.85%

Annual Payout: $5.05

Payout Ratio: NM
Category: Dividend Yield