Wondering where to find the best dividend stocks for a rainy day?
Before you start looking, figure out when that rainy day might come.
How long are you comfortable hanging onto a stock?  Come up with an answer, and then have the discipline to stick to it.
You won't find good stocks to buy now unless you nail down your own investment horizon.
Let's say you want to do some dividend investing and you're comfortable hanging onto a stock for 8 years.  Maybe even holding it for 10 years.
Not a bad idea.
That gives you plenty of time to wait for a rainy day, the day when you'll want to do one of two things.
Start using the dividends for income or sell the stock, take the money off the table, and get yourself a boat, say a used 60 foot long Chris Craft Roamer.  (Just $149,500 picks it up at the dock in Fort Lauderdale.)
Or maybe you turn dividends into diesel for your yacht.
Whatever you do, when you hang onto your dividend stock for 8 to 10 years, and you reinvest your dividends along the way, you'll be in good shape.  That's because you've been able to weather the inevitable ups and downs of the market.
If you're one of my regular readers, you might remember that we took a look at Target Corp. $TGT a few weeks ago.  That's a great example of why you can't buy dividend stocks, hang onto them for a couple of years, and expect to make money.
If you bought Clorox $CLX, one of the Dividend Aristocrats in July, 2011, you would have waited a year to break even.
Look at the ride this dividend stock has been on…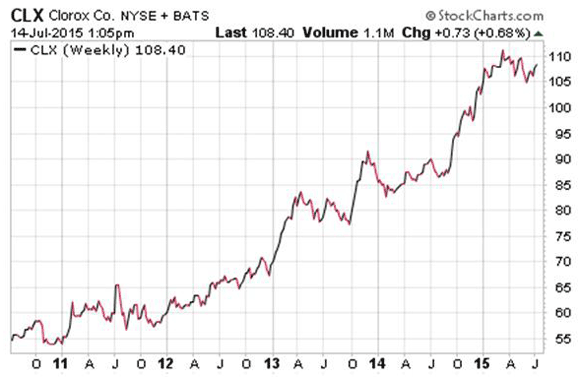 But Hold On A Second…
Why am I suggesting you hold on to a dividend stock for ten years when you look at this chart and see a bunch of opportunities to make good money in just a few years?
If you bought Clorox at the beginning of 2013 and held it for just one year, you would have been a happy camper.  It went from the high 60s to the mid 80s.
Well, you've got to remember that old 20/20 hindsight.  Timing the market might be something other guys claim to have a lock on, but not me.
The closest I get to market timing is picking up a few more shares of dividend stocks I like on the dips.
Stock prices have a way of getting stuck in ruts.  The chart guys, the technical analysts, like to call these channels.  You see them when a stock trades in a fairly narrow price range, like Clorox has been trading since the start of 2015.
There's a good case to be made for a big move when the stock price breaks out of the range.
But that's not my world.  Leave that to the technical analysts.
My world is finding the best dividend stocks and holding onto them for a rainy day.
So here are a couple of more ways to do this once you've got the rainy day figured out and you know how long you'll hold your stock.
First, reinvest the dividends you're paid.
It's a definite plus when you know how dividend reinvestment plans really work.
Next, make sure the stock you buy has dividends that are growing.
Why?
Since you're hanging onto the stock for the long haul, you get to capture the beauty of compounding as the dividends grow, and before long, you're collecting dividends on top of dividends.
Here's something else…
Check Out The Dividend Growth Rate
Something I like to look at is how much the dividend is growing.  The three year annualized dividend growth rate gives you the perfect measurement.  It's a great way to compare stock A and stock B.
History obviously doesn't repeat itself, but when it comes to best dividend paying stocks, past performance is just as good as any piece of information you can get.
Let's check out a couple of today's best dividend stocks to see how their dividends have been growing the past three years…
AT&T sure sticks out like a sore thumb, doesn't it?
You know why?  It pays a pretty high yield these days.  Depending on the trading day, it's usually up near the top of the list of the S&P 500 Dividend Aristocrats.
It's tough, it's clearly a financial struggle for AT&T to keep growing the yield, and this could be an early warning signal of tough dividend growth ahead.
Maybe there's even a dividend cut in the cards.
But you can see $IBM and $XOM have been growing their dividends at a decent clip the past three years.  This isn't a guarantee of more of the same, but it's sure a lot more comforting than what's been happening – actually what hasn't been happening – at AT&T.
I'm pointing out IBM and Exxon Mobil for you because each stock has been beat up lately.
IBM has questions to answer about what business it needs to be in and Exxon Mobil has been dragged down by the collapse in crude oil prices.
So whatever dividend stocks you look at, try to find out why the dividend growth rate performs like it does.
Clorox, which we looked at on the chart, has a 3 year annualized dividend growth rate of 1.95%.
What should the growth rate be?  If you're in the 2-3% range, you're in good shape.  Anything higher than that could be ambitious, and a tough pace to maintain.
Anything lower than that doesn't give you the horsepower you need to take advantage of the beauty of compounding dividends.
How Does The Dividend Growth Rate Make You Money?
Do the math.
You buy AT&T with a dividend of 5.37% and it's growing at 0.54%.
Or…
You buy Exxon Mobil with a dividend of 3.51% and it's growing at 2.67%.
We can't say the growth rate will stay the same, but even if it stays close, you can see what happens.
AT&T sputters and Exxon Mobil soars past.
It's just another reason why you shouldn't go chasing high yield.  The higher the yield, the more difficult it is to grow.
Patience pays off.
This is how you find the best dividend stocks for a rainy day… making sure you're keeping a watchful eye on how the dividend will grow over the years you own the stock.
That's how you show up in Lauderdale with enough cash to plunk down for the 60 foot Chris Craft Roamer.
Cordially,
Paul Duke
Note:  Paul Duke writes and edits DividendStocksResearch.com.  Sign up for our free dividend reports and dividend newsletter at https://www.dividendstocksresearch.com/free-sign-up.  We'll show you how to create regular income by investing in dividend stocks, easily, step-by-step.
Category: Dividend Stocks To Buy?