What's the big deal?
Why should you plunge into a steamy love affair with stocks that keep raising their dividends?
Simple. It's one of the best ways to make money. And it doesn't take a math whiz to see how.
In fact, you don't even need to fire up a calculator. All you have to do is crack open a history book.
Take a look at the performance of the S&P 500-stock index over the long haul. From 1926 through March, 2009, reinvested dividends were what drove almost half of the 9.5% return.
That's before the big market runup of the past six years.
Let's look at history with a different timeframe… 1972 through 2009.
And let's just look at stocks that grew their dividends. These dividend-growing stocks delivered an annual return of 8.7%.
The overall market return was 6.2%. And the return on stocks that didn't pay dividends? Not good… a measly 0.7%.
This is why it's always good to remember that…
The Best Dividend Stocks Protect You
The inevitable stretches when your stocks' share prices aren't increasing in value… this is when dividend stocks throw you a financial lifeline.
To make this lifeline as reliable as possible, you want stocks that keep raising the dividend.
But don't mistake rising dividends for rising yields.
Remember… a stock's price can go down, the amount of the dividend payout stays exactly the same, and the yield goes up.
That's basic arithmetic. But it's not exactly a great way to make money.
Stocks with the highest dividends don't mean much. In fact, they could get you in trouble.
But growing dividends mean you're actually compounding.
This is why you should keep in mind that the best paying dividend stocks aren't necessarily the stocks with the highest yields.
The best dividend stocks have a consistent growth rate. No fireworks, no drastic growth in the payout quarter to quarter, but slow and steady increases.
What It Really Means When Stocks Grow Dividends
When a stock continues to increase its dividend, quarter after quarter, year after year, an unmistakable message is sent to the market.
The company is healthy.
Dividend increases are like low blood pressure readings. They're what you want to see.
You can also look closer to measure the actual rate of dividend growth. If the growth rate picks up steam, that's even better, because it's financial evidence that the company has some momentum. The wind is at its back. The revenue and profit outlooks are good.
But what about a warning signal we can look for? What would compare to a high blood pressure reading?
Here's what. When all of a sudden, the dividend spikes. It soars by 50%, or even doubles from one quarter to the next.
When this happens, there's usually a reason why. And you'll usually find it when you prowl through the financial reports. You might find that revenue is trending down or expenses are trending up.
You might also find the reason why in the company's quarterly earnings calls or in the annual report.
See if a key executive is leaving or if demand has dried up for an important product.
Look for any change in the business that could be cause for concern. When you find one, chances are you've found the weakness the company would like to hide.
And a sudden dividend increase is something companies will do to try and gloss over a blemish.
Where To Look For Growing Dividend Stocks
Want a good rule of thumb?
The best dividend paying stocks have been growing dividends for five years. Find a stock, check out the dividend history, and track it quarter by quarter.
Don't have time to go slogging through all kinds of research? You can always head for the old reliables, the S&P 500 Dividend Aristocrats.
These stocks have raised their dividends every year for at least the past 25 years.
But don't stop looking here, because there is a whole world out there. A world of stocks that has raised dividends every year for at least the past 25 years.
The only thing that makes them different from the Aristocrats… they're not huge companies. They're not members of the S&P 500, and they're known as Dividend Champions.
Many of these stocks have a certain nostalgic quality. They take us back to simpler times when dividend investors had a fondness for two kinds of stocks…
Utilities and insurance companies.
Like the Beatles and the Rolling Stones, those simple times never went away.
Look closely and you'll still find them. The best dividend paying stocks are performing endless encores for investors.
Dividend Stocks That Don't Stop Rocking
The spotlight is still shining on utility company stocks.
Check out these 3 utility stocks that love to light up their dividends.
And take a look at these 7 insurance companies that have been paying a growing dividend for at least 25 years…
AFLAC Inc. (AFL)
Chubb (CB)
Cincinnati Financial (CINF)
Erie Indemnity Co. (ERIE)
Mercury General Corp (MCY)
Old Republic International (ORI)
RLI Corp (RLI)
Do some of these look familiar? Probably. Two are S&P 500 Dividend Aristocrats. Which leaves five dividend stocks that most investors don't even know exist.
(One of them has been increasing dividends for 39 years.)
You probably know about AFLAC.
Not because it's an S&P 500 Dividend Aristocrat, but because it seems to advertise a lot on TV.
AFLAC is a good example of a stock that takes its lumps, even though it's had a nice runup along with the rest of the market. The share price is up and down. But it keeps raising the dividend.
Check out how the stock price has done over the past three years…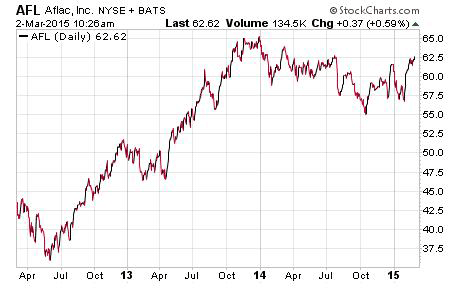 See how AFLAC turned in a losing year in 2014?
Well, the dividend actually went up.
And it's been going up every year since 1983.
This is why dividend stocks that keep raising dividends are keepers. They're great protection from the ups and downs of the market that can knock your share price around.
The Rewards Of Growth Without The Risks Of Growth Stocks
Stocks for widows and orphans. That's the old line. That's the term that's usually attached to the kind of stocks that pay growing dividends, like insurance companies and utilities.
The description's a bit insulting isn't it? None of us want to think we're so timid we settle for returns that would satisfy a widow or an orphan.
Well…
You might know an investor or two who's taken a flyer on a so-called growth stock that didn't pan out.
And there are plenty of wealthy widows who have quietly been sitting on their dividend stocks.
Regards,
Michael Jennings
Note:  Michael Jennings writes and edits DividendStocksResearch.com. Sign up for our free dividend reports and dividend newsletter at https://www.dividendstocksresearch.com/free-sign-up. We'll show you how to create regular income by investing in dividend stocks, easily, step-by-step.
Category: Best Dividend Stocks