DividendTrades/PG071218
TRADE ALERT
July 12, 2018

Did YOU get this trade alert FIRST?
We sent all Hyperion Texting Club members a real time text message as soon as this trade was approved for release!  
It's free to join.
We send 4 to 6 important messages a month, and you can stop or cancel at any time. Remember, your cell phone company may charge Message & Data rates.  (Sorry, I can't control that!)
If you want to join, simply text the word "RETIRE" to (623) 300-2305.
It's that simple!
Now, on to today's trade…
WHY I LOVE THIS TRADE
Cash…
I love this trade because of the cash this company throws off.
Here's some simple numbers… As I write, the company pays a $2.87 per share dividend… which is about 3.62% (according to my trusty computer!).
But, just having a strong dividend isn't the only factor.
No, what I love is that they pay a fat dividend and they keep increasing it!
Every April, the board raises the dividend… check out these dividend raises:
7.0% in 2012

7.0% in 2013

7.0% in 2014

3.0% in 2015

1.1% in 2016

3.0% in 2017

4.0% in 2018
All in all, the dividend is up 36% since the start of 2012.
And I expect it to keep growing, and growing, and growing!  This company has paid dividends consistently since the 90s… the 1890s!
That's over 128 years.  WOW!
Full Disclosure, I found this stock back in early May and bought a bunch for my own retirement account.  It's one of those buy and hold forever stocks… and you'll see why in a moment.
Now, here's the needed legal crap my lawyer tells me to put in – Obviously, you should never just buy a stock because someone says so (even me, I've been wrong before). Do your own research, read up on the company, follow the stock price, read the news, and watch the markets. Make your own decisions.
Remember, it's your money and NOBODY cares for it more than you do!
With that said… here we go!
What's the DIVIDEND STOCK I just bought?
PG
You know them as The Procter & Gamble Company (PG).

Do you really need me to tell you they own some of the biggest brands in the world… like: Head & Shoulders, Pantene, Rejoice, Olay, Old Spice, Safeguard, SK-II, Braun, Fusion, Gillette, Mach3, Prestobarba, Venus,  Crest, Oral-B, Prilosec, Vicks, Ariel, Downy, Gain, Tide, Cascade, Dawn, Febreze, Mr. Clean, Swiffer…
They own a ton more brands… I'm just tired of typing.  
Just look around your home or office and I'm sure you'll see some of these very products.
Clearly they have a world class business… They've been in business 180 years… they sell products in over 180 countries, and for the last 62 years, they've increased the dividend.
So let's look at the chart.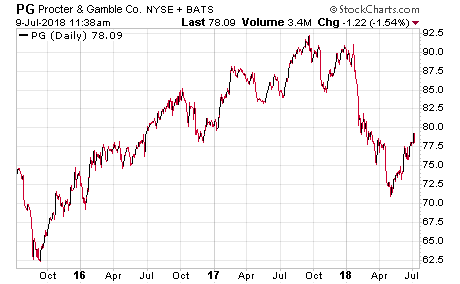 As you can see, the stock made a massive climb along with the market from mid-2015 right up to the start of 2018.
Then the stock retraced by almost 20% at the early part of 2018.
Why?  
I figure it's a combination of fears over trade wars, a fight with Nelson Peltz (an activist shareholder) and general uncertainty over the economy.  All three add up to a recipe for fear.
Here's the deal.  This is all overdone.  
I'd expect the stock to rebound to new highs, the board to continue raising the dividend, and the company to keep growing (slowly – but growth is growth).
And that means this is a stock I can get behind.
With the stock down, we're buying world class operations at a deep discount.
Take a look for yourself and ask a critical question – would I stop buying these products in 6 months, 3 years, 10 years?  I don't think so… and that's great news for the business, and shareholders!
Remember, every good company can stub their toe, and that's the time to buy.
So, if you get a chance, do your own research… and buy some PG for your own portfolio today.  I'm planning on picking up more in the next few days.
Good Trading,
Brian, Publisher
Hyperion Financial Group