DividendTrades/KMB051818
Trade Alert
May 18, 2018
Were you the FIRST to get this trade alert?
Our Hyperion Texting Club members were sent a real time text message the moment this trade alert was LIVE!
It's free to join. We sent 4-6 messages a month, and you can cancel at any time. Msg & Data rates may apply.
Simply text the word "RETIRE" to (623) 300-2305.
It's that simple!
HERE IS MY TRADE
I love dividends…
Why?
Because they pay me over and over and over again. And if you pick the right companies at the right time, you can make a boatload of money.
For example, I've got one dividend stock in my portfolio that's been slowly raising its dividend for years now. This year I will make 25% (in just dividends) on my initial investment.
No, it's not a risky penny stock or some fly by night scam… the company is in the S&P 500 and is a well known brand. (More on them another time…)
That success has caused me to seek out some of the best dividend stocks in the market today.
I recently found one and I just bought it for my own account.
Yes, I pulled out my hard earned cash and bought a bunch of shares.
I get asked so many times… "Brian, What do you invest in?" that I thought it might be nice to share this Trade Alert with our loyal readers.
BEFORE I TELL YOU THE COMPANY…
I want to make one thing clear…
This is a long term trade for me. I'm NOT looking for it to skyrocket in price tomorrow, or next week, or next month. Heck, I wouldn't be surprised if the stock traded around today's price a year from now.
You see, I'm into it for the dividend.
Dividends are cold hard cash that you get just for owning a stock… It's like Christmas morning everytime I get a dividend payment! I love it.
And, if you already own dividend paying stocks, you know exactly what I'm talking about!
Obviously, you should never just buy a stock because someone says so (even me, I've been wrong before). Do your own research, read up on the company, follow the stock price, read the news, and watch the markets. Make your own decisions.
Remember, it's your money and NOBODY cares for it more than you do!
With that said… here we go!
THE DIVIDEND STOCK I JUST BOUGHT
What stock did I just buy?
KMB
Yep, good old Kimberly-Clark Corporation (KMB).

Their business is solid… just consider their portfolio of brands. It includes Huggies, Kleenex, Scott, Kotex, Cottonelle, Poise, Depend, Andrex, Pull-Ups, GoodNites, Intimus, Neve, Plenitud, Viva and WypAll. According to the company, they hold the No. 1 or No. 2 market share position in 80 countries.
This is a solid business.
But the stock is struggling…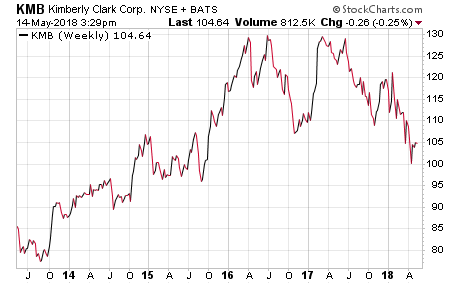 Just look at the chart.
As you can see, the stock is off from its highs… it's down about 15%. Some people would be worried about that. I see it as an opportunity to buy the stock at a big discount.
If you look at the chart, the last time it traded at these levels was 2015… now's your chance to go back in time and buy a great stock.
But that's not all.
Another reason why I like this company is the dividend.
Right now the dividend is $4 a share… which is about a 3.8% yield. Not too bad… but this is what's got me excited.
Every March the board raises the dividend… check out these dividend raises:
5.7% in 2012
9.5% in 2013
3.7% in 2014
4.8% in 2015
4.5% in 2016
5.4% in 2017
3.1% in 2018
All in all, the dividend is up 30% since the start of 2012.
Did you know KMB is also a member of the Dividend Aristocrats list? That means they have increased their dividend payout every year for more than 25 years!
I think this is a trend that will continue for some time… and I'm going to keep an eye on the stock. Every dip, barring a major catastrophe in the business, is a good buying opportunity.
So, if you get a chance, do your own research… and buy some KMB for your own portfolio today.
Good Trading,
Brian, Publisher
Hyperion Financial Group
BONUS Info: So many people have taken action on this trade that I'm going to do it again next month. In June, I'm going to send out a special summer trade. How do you get it? Just keep opening the emails we send you. Inside one of those emails will be a special trade alert – just for readers!