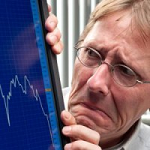 In most cases, investors like us covet the idea of being able to buy assets at a discount. If the investment works out, the combination of the asset increasing in value and the elimination of the discount can result in very nice capital gains. However, if you are investing in high-yield stocks, share price discounts to book or net asset value (NAV) can be a serious danger signal.
High-yield stocks organized as finance real estate investment trusts (REITs) and business development companies (BDCs) will produce better results for investors if their share prices trade at or above NAV. There are two main reasons why having the share price of one of these stocks priced at a discount is a danger signal for investors.
The majority of finance REITs own highly leveraged portfolios of residential mortgage backed securities (MBS). These are the same financial instruments that led to the 2008 financial crisis. Due to factors specific to MBS and the high leverage needed to produce double-digit dividend yields, these companies are negatively affected by changes in interest rates in either direction.
The result of the complicated business model has been a general erosion of book or net asset values. Here are examples from the two largest residential MBS REITs.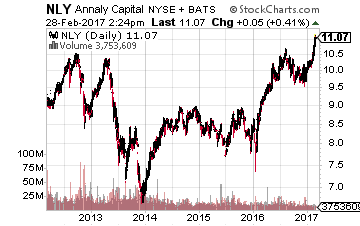 Five years ago, Annaly Capital Management, Inc. (NYSE:NLY) did not report book value, but the stock was trading for $16.50 and investors were earning a $0.57 per share dividend every quarter. At the end of 2016, the NLY book value was down to $11.16.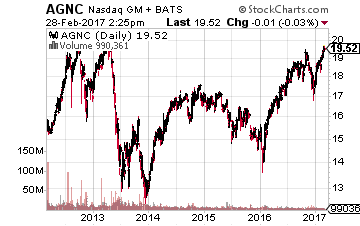 The current share price is a discounted $11.03 (It was at $10 earlier in 2017) and the quarterly dividend has been slashed to $0.30 per share. Over the same time period, the AGNC Investment Corp. (Nasdaq: AGNC) book value has declined from $27.71 down to $21.17, and the dividend has dropped to $0.54 per quarter compared to $1.25 at the end of 2011.
Over the last year, the AGNC book value dropped by 6.3%. These stocks and others with similar business operations trade at a discount to book value because the market understands the book value is very likely to continue to erode. Buying a shrinking business at a discount is not a good idea.
Business Development Companies face a different challenge. These companies have legal limits on the amount of debt they can have in relation to the value of their asset portfolios. BDC's make loans to and equity investments in mid-sized corporations. These are companies too small or closely held to be listed on one of the stock exchanges.
For a BDC to grow its business, it must issue new equity shares for at least half the amount of new business it wants to put on the books. This business model does not work well if the share price is trading at a discount to NAV.
Consider a BDC trading at 80% of NAV. The company has to issue $100 worth of stock to bring in $80 of cash. Not a good deal. This type of move further reduces the NAV and hurts future profitability. On the other side, a BDC trading at a premium buys cash at a discount when new shares are sold into the market.
A 20% premium means a BDC would issue $100 worth of stock to get $120 in cash. This is immediately positive for investors and the money can be put to work to generate growing cash flow and dividends. Only about one-third of the stock market listed BDCs currently trade at premiums to their NAV. Here are three of the most discounted. These are stocks to avoid, no matter how attractive the dividend yield appears.
Fifth Street Finance Corp. (Nasdaq:FSC), which just proved my point by slashing its dividend by 67%.
Medley Capital Corp (NYSE:MCC), which reduced its dividend by 26% last fall and yields 11%.
Prospect Capital Corporation (Nasdaq:PSEC), which yields over 10%.
These are the reasons why there are no residential MBS REITs in The Dividend Hunter recommended stocks list and only two BDCs that meet my yield and dividend safety criteria.
Note: This article originally appeared at Investors Alley.
Category: Dividend Bust