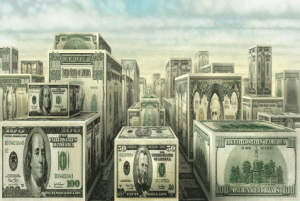 While the Fed has for now put interest rate increases on hold, I continue to receive questions on whether REIT values will be hurt by rising interest rates. It is a widely held –but inaccurate– belief that REIT values must fall if interest rates continue to increase. The fact that many REITs increase their dividends over time tells us that these are businesses with potential for growing dividends and share values even in a rising rate environment.
Recently, I looked at the history of REIT values and interest rates. Since 1995, there has been 16 periods of significantly rising interest rates. Out of those 16, REIT values increased 12, or 75% of the time. In the period from June 2004 through August 2006, the Fed increased rates 16 times. During that period, REITs outperformed the S&P 500, 59% to 22%.
The fact is that REIT results are driving more by economic conditions, rising commercial real estate values, and the ability of REITs to increase the rental rates on their properties. We can monitor how well a REIT is performing from its history of dividend growth.
Most REITs announce any dividend increases once a year, in the same month each year. Across the sector, there are increase announcements in almost every month in the calendar. You can often get a nice share price gain by buying shares before a dividend increase announcement hits the news wires.
I maintain a database that covers about 140 REITs. I use the database to track dividend rates, yields and increases. Of the 140, about 90 have histories of regular dividend increases.
There are four REITs that should announce a dividend increase in April.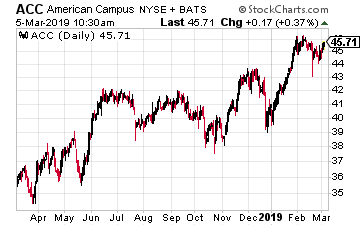 American Campus Communities, Inc. (NYSE: ACC) owns, manages and develops primarily off-campus student housing properties in the United States. The company owns over 200 properties near 96 college campuses.
While some growth comes from acquisitions or development, ACC also realizes 2.5% per year of average rental rate growth. Since resuming dividend increases in 2013, the payout has been increased by 5% to 6% for six consecutive years.
In 2018, FFO per share was in line with previous years. The current dividend is 80% of 2018 FFO per share, so another 4% to 5% increase still likely for this year to keep the growth record going.
The new dividend rate is announced at the end of April/early May with an end of May payment date.
ACC currently yields 4.1%.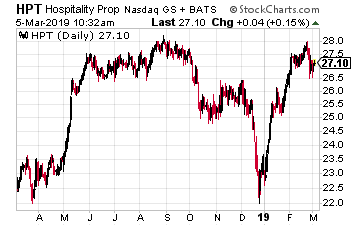 Hospitality Properties Trust (NYSE: HPT) owns 325 hotels and owns or leases 199 travel centers located throughout the United States, Canada and Puerto Rico. All the properties are leased to management operators. In 2018, FFO per share was up 2% compared to the 2017.
The current dividend rate is 57% of 2018's FFO. For the last several years, HPT has been increasing the dividend by about 2% annually. I expect an increase this year of similar magnitude.
The new dividend rate has been announced in mid-April, with a late April record date and second half of May payment date.
HPT yields 7.9%.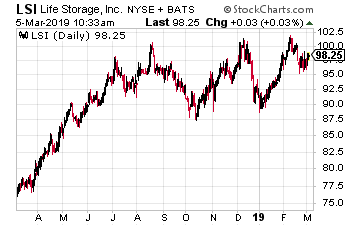 Life Storage Inc. (NYSE: LSI) owns over 750 self-storage facilities located in 28 states and Ontario, Canada. Self-storage has been a cyclical REIT sector and growth has flattened over the last year. Life Storage was growing its dividend by over 10% per year before keep the rate flat for the last two years.
For last year, FFO per share increased by 3.7% so investors should look for a low single-digit dividend increase. If a boost is coming in April, it will be announced near the start of the month for the dividend to be paid at the end of April.
The stock yields 4.1%.
Bonus Recommendation: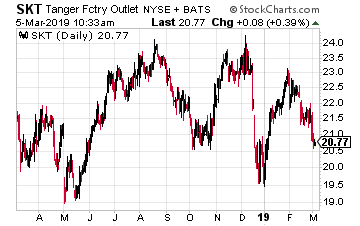 Tanger Factory Outlet Centers Inc. (NYSE: SKT) was the pioneer in developing factory outlet malls. The company has increased its dividend every year since its 1993 IPO. Over the last five years, the payout has grown at a 9/63% annual compounded rate. However, the rate was increased by just 2.2% last year.
In 2018, AFFO per share was up slightly compared to 2017 results. With the turmoil in brick and mortar retail, Tanger has stayed conservative with its balance sheet and growth projects. The current dividend just 58% of AFFO. I expect a 2% to 3% increase to keep the company's dividend growth track record intact.
The next dividend will be announced in early April with and end of April payment date.
SKT currently yields 6.8%.
It is stocks like these that make up the high-yield portfolio (current average is over 8%) used in the Monthly Dividend Paycheck Calendar, a wealth creation system used by thousands of dividend investors enjoying a steady, reliable income.
The Monthly Dividend Paycheck Calendar is set up to make sure you receive a minimum of 5 paychecks per month and in some months 8, 9, even 12 paychecks per month from stable, reliable stocks with high yields.
The next critical date is Wednesday, March 13th, 2019 (it's closer than you think), so you'll want to take before that date to make sure you don't miss out. This time, we're gearing up for an extra $6,956.00 in payouts by March 28th, but only if you're on the list before March 13th.
Click here to find out more about this unique, easy way of collecting monthly dividends.
Category: Dividend Yield
Tim Plaehn is the lead investment research analyst for income and dividend investing at Investors Alley. He is the editor for The Dividend Hunter, an investment advisory delivering income investments with double digit growth in share price and dividend payments, and 30 Day Dividends, a specialty income service that takes advantage of opportunities for relatively fast, attractive profits around potential dividend payouts.