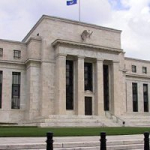 With five more increases expected through 2018, that means these three dividend stocks that all yield over 8% will become a whole lot more profitable in that time. Lock-in these great yields today and earn some huge cash dividends while the share prices steadily increase year after year.
There is a general belief and fear among investors that rising interest rates are bad news for all types of high-yield stocks. One of the reasons for this belief is that many companies that pay big dividends use significant leverage to do so. Higher rates mean higher interest expenses, which could lead to dividend reductions.
At the same time, the market may be looking for an even higher yield to offset higher rates from other investments. To get a yield increase, share prices must decline. Income investors can easily defend against the problems of rising rates by owning shares of companies that will see higher profits as interest rates move higher.
The universe of real estate investment trusts can be divided into two primary types of companies. Equity REITs, which are the companies that own commercial properties. This group can be further divided into subsectors such as office REITs, apartment REITs, industrial REITs, and another handful of different categories of commercial properties.
In general, equity REITs have the ability to raise rental rates to offset the costs of higher interest rates or inflation.
Finance REITs are the second major category of real estate investment trusts. These companies own debt assets associated with both commercial and residential real estate. A finance REIT may be an actual lender, making loans and either holding them as assets or packaging groups of loans into mortgage backed securities (MBS).
The other strategy taken by many finance REITs is to just own portfolios of MBS. The most common finance REIT business model is to own a leveraged portfolio of government agency guaranteed residential MBS.
The stocks in the finance side of the REIT world carry significantly higher yields than the equity group. As a result, yield-focused investors will find themselves researching and owning shares of finance REIT companies. With interest rates now on the way up, REITs that own portfolios of MBS face the danger of falling bond –MBS are bonds– prices as rates continue to rise.
As bond values fall, these companies may be forced to sell their MBS at a loss to pay back the borrowed money used to buy the bonds. The point is, you do not want to own finance REITs which own residential mortgage backed securities when interest rates are rising.
The REITs that originate and hold commercial mortgages are the ones that can benefit from higher interest rates. These REITs primarily issue and own adjustable rate loans. They are perfectly positioned to generate higher profits as interest rates increase. If you are confident that the Fed will continue to raise interest rates, it is time to sell your residential MBS owning REITs and invest in these commercial mortgage REITs.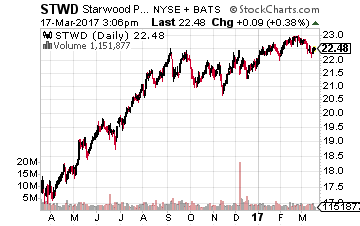 With a $6 billion market cap, Starwood Property Trust, Inc. (NYSE:STWD) is one of the largest finance REITs of either type. Starwood's primary business is first lien commercial mortgages. The loan portfolio is currently worth $6.7 billion.
The company also has a commercial loan special servicing arm, originates loans for CMBS pools, and has been investing in quality, stable-pay commercial properties. 91% of the loan portfolio is floating rate. Starwood has indicated that a 2% increase in the LIBOR interest rate would increase annual profits by $55 million or $0.22 per share. STWD currently yields 8.6%.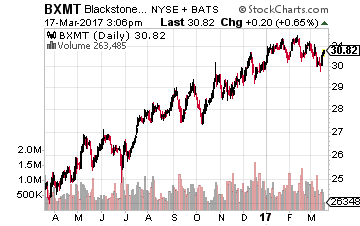 Blackstone Mortgage Trust Inc. (NYSE:BXMT) has a $2.9 billion market cap and is a pure-play, first lien commercial mortgage lender. The company's loan portfolio is worth $9.8 billion and 89% is floating rate loans. Blackstone estimates that a 1.77% rise in LIBOR would increase annual profits by $0.20 per share. A 2.27% increase would boost income by $0.30 per share. BXMT currently yields 8.1%.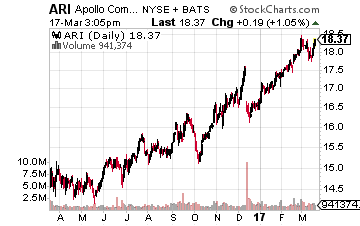 Apollo Commercial Real Estate Finance Inc. (NYSE:ARI) is a $1.6 billion market value REIT that makes both first mortgage and subordinated. The use of more leverage and the subordinated loan holdings make ARI the most aggressive of the three REITs discussed here. Apollo has stated that a 2% increase in LIBOR would give a $0.34 per share per year benefit to net income. ARI currently yields 10.1%.
Owning high-yield stocks with secure cash flow streams like the three above allows me to stop worrying about the daily gyrations of the stock market. It's so easy, all you have to do is buy shares in the stock and watch as they deposit money into your brokerage account multiple times a year.
Note: This article originally appeared at Investors Alley.
Category: Dividend Yield