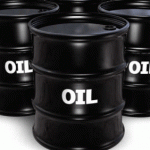 With the recent OPEC agreement, it's a great time to look into what kind of profit opportunities can be found in the oil patch. With many cheap stocks to be found, we've chosen three that have rock-solid dividends and perfect valuations to take a look at today. 
Oil is back in favor.
That means it might finally be time to dip our toes back in the oil investing waters.
The big catalyst that helped get oil prices back over $50 a barrel was the production cut by OPEC. OPEC members agreed last week to cut production by 1.2 million barrels a day — a move that's expected to help push oil to $60 a barrel in 2017.
But it pays to be 'safe' here, as a similar OPEC agreement fell apart last year. Granted, things are much different this go around as many of the major oil producing countries are facing credit rating downgrades and fiscal strains. And, one of the major detractors of an oil production cut, Saudi Arabia, has come around to finally support a deal.
Still, it pays to be a bit cautious given the volatility and head fake recoveries we've seen in the past. This means sticking to the biggest and stable companies is the ideal oil investing strategy, hence focusing on the dividend payers.
However, there are many facets to oil and not all companies have stable balance sheets and enough cushion to pay a steady dividend. We've done the hard work of digging deep to find the best dividends in all areas of the oil process.
Best Oil Dividend Stock No. 1: Occidental Petroleum (NYSE: OXY)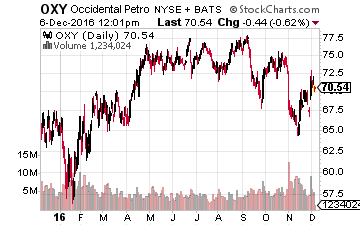 It is tough to find a pure play oil driller and explorer that's large enough to pay a solid and stable dividend. Most of the larger oil names, like Hess (NYSE: HES) and ConocoPhillips (NYSE: COP) are also mixed up in oil transportation, pipeline or refining operations.
However, the $50 billion Occidental Petroleum is just that, a pure play oil explorer that offers a 4.3% dividend yield. But, Occidental has missed out on a lot of the rebound in oil stocks. Shares are up just 9% in 2016; meanwhile, ConocoPhillips is up 21%.
Occidental has been lagging of late as it is amidst a transition. Its focus has been on using its cash flow during the recent oil fallout to buy up oil properties. Notably, it's secured a more prominent position in the Permian basin, one of the most prolific oil regions in the U.S.
But Occidental has been punished for using its cash to buy when 'there's blood in the streets,' instead of paying down debt or building up cash reserves. Still, it's managed to keep its dividend intact. This comes as it has a solid balance sheet and generates consistent cash flow. Thanks to some advantageous purchases, Occidental managed to grow production 4% year-over-year last quarter and expects to see at least 5% growth for the full year.
Best Oil Dividend Stock No. 2: Energy Equity Transfer (NYSE: ETE)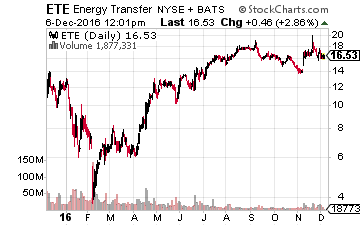 After the oil is pulled out of the ground, we then have to move it, that's where the pipeline companies come into play. This is known as the midstream part of the oil market. The best dividend in the oil transportation business is Energy Transfer Equity. This stock pays a hefty 7% dividend yield and has been a newsworthy story for well over a year.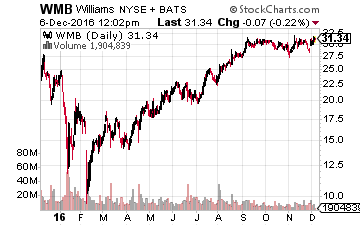 This comes as it tried to merge with Williams Companies (NYSE: WMB) but managed to work its way out of the merger following the cratering of oil prices. Now, it's the focus of the Dakota Access Pipeline protests, with its pipeline in the crosshairs.
Nonetheless, the DKAP upheaval is expected to come to a favorable resolution, as well, Energy Transfer Equity recently announced plans to make its corporate culture simpler. One of the key arguments against investing in Energy Transfer Equity is the complexity. Now, it's getting smaller as two of its master limited partnerships merge, Sunoco Logistics (NYSE: SXL) and Energy Transfer Partners (NYSE: ETP). The move makes Energy Transfer Equity a bit easier to understand while also making its dividends a bit more secure while freeing up capital for growth.
Best Oil Dividend Stock No. 3: Valero Energy (NYSE: VLO)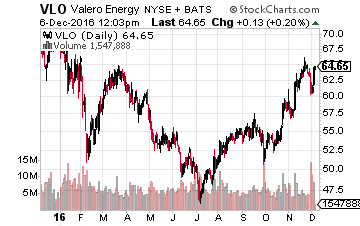 Finally, one of the last steps in the 'oil process' is the refining, which includes turning crude oil into gasoline. One of the biggest, and arguably the best refiner, is Valero Energy. It has 16 refineries and offers a near 4% dividend yield.
Thanks to the nature of the refinery business, it remains relatively stable, a large positive for Valero's stock price. As oil and gasoline prices fall, the demand for gas increases, which means more demand for Valero services. In truth, Valero should continue to do well regardless of the oil price environment.
What makes Valero special lies in its ability to position refineries in proximity to major metropolitan hubs, such as Los Angeles and San Francisco. For shareholder returns, it's not just the dividend but also buybacks that the company uses to reward investors. It has committed to returning 75% of its income to investors.
In the end, timing is everything with these things. However, an easy way to ensure you have some 'downside' protection built in is with solid dividends. The three stocks above pay some of the best dividends in the oil industry and can provide something for every investor.
Note: This article originally appeared at Investors Alley.
Category: Best Dividend Stocks