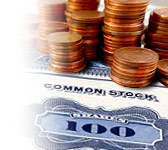 With the stock market at new highs and interest rates near record lows it is difficult to select investments that will have good probabilities of providing acceptable returns in the future. The potential for another stock bear market adds to the difficulty of where to invest your money. My analysis and forecasts indicate a dividend stock focused strategy has a strong chance of providing superior returns over the next decade.
Billionaire Howard Marks is Co-founder and Co-Chairman of Oaktree Capital Management, a global asset management firm specializing in alternative investment strategies.  Several times a year he publishes a memo that covers different aspects of investing and investment asset classes. Marks likes to put out warnings to be cautious when he sees over-exuberance in different asset classes. The most recent memo came out on July 26. Before going into a deep discussion, he highlighted these four points about the current investing environment:
The uncertainties are unusual in terms of number, scale, and insolubility in areas including secular economic growth; the impact of central banks; interest rates and inflation; political dysfunction; geopolitical trouble spots; and the long-term impact of technology.
In the vast majority of asset classes, prospective returns are just about the lowest they've ever been.
Asset prices are high across the board. Almost nothing can be bought below its intrinsic value, and there are few bargains. In general, the best we can do is look for things that are less overpriced than others.
Pro-risk behavior is commonplace, as the majority of investors embrace increased risk as the route to the returns they want or need.
Marks also notes, "Most people (a) are conscious of the uncertainties listed above, (b) recognize that prospective returns are quite skimpy, and (c) accept that things are unlikely to go well forever.  That's all healthy." However, he then provides the caveat that, "…most people can't think of what might cause trouble anytime soon."
I see several likely scenarios for stock and bond investment results over the next decade. I place a higher probability on a decade of low average returns from markets that are very choppy. This means one or two stock market corrections a year with declines of up to 20%. This is the natural outcome of an economy that does not go into a deep recession but instead struggles along at 1% to 2% annual GDP growth. With this type of market, over the next decade, I expect average annual returns of 4% to 5%. I expect individual investors to most likely lose money, selling for losses with each correction and buying at the next peak with the hope that stocks are starting a new bull market.
There is also the possibility for a true stock bear market. This would likely be triggered by an unpredictable event. War or trade wars, a serious terrorist attack, Iran or Saudi Arabia uses military power to close the Strait of Hormuz, through which 18% of the world's oil flows. One of these or some other unpredictable event could be the catalyst of a once-in-a-decade type of market decline.
The bottom line is that over the next 5 to 10 years or longer, it will be very hard for investors to employ the usual stock market strategies and realize the returns they want or need.
With prospects for 4% to 5% total returns from the overall stock market, a higher yield dividend stock strategy offers an opportunity for out performance. If the stocks in your portfolio have an average yield of 5% to 6%, you are already ahead of the game.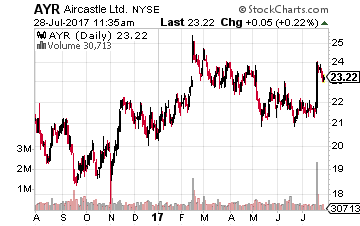 Then if those dividends grow over time and you reinvest some or all the dividend earnings, you have the potential to produce double-digit average returns even if the market does half that level. A focus on investing for dividends allows you to stay in the market through short-term declines, and the dividend earnings can be invested when share prices get cheaper.
Here is another quote from Marks memo: "We all want there to be bargains, but no one is eager to endure the price declines that create them." With a dividend reinvestment strategy, we can be eager to buy more dividend paying shares when those share values go down. To get you started, here are three stocks with above average yields and strong dividend growth potential.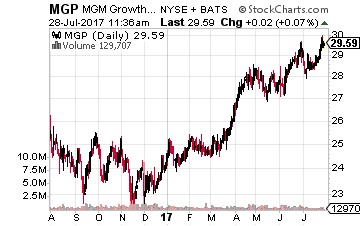 Aircastle Limited (NYSE: AYR) owns commercial aircraft and leases them to airline companies all over the world. The stock currently yields 4.5%. The business generates plenty of cash flow to allow the Board of Directors to continue its practice of increasing the dividend by 3% to 5% each year.
MGM Growth Properties LLC (NYSE: MGP) is a net lease REIT that holds a master lease agreement on the majority of properties operated by MGM Resorts International (NYSE: MGM). The lease has built in rent escalators and a profit share incentive if the MGM revenues grow. The stock currently yields 5.4%. MGP has been public for a year-and-a-half and has already increased the quarterly dividend by 8%.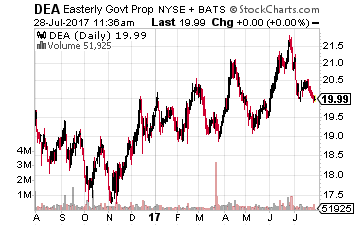 Easterly Government Properties Inc (NYSE: DEA) is a REIT that acquires and develops properties leased solely to federal government agencies. DEA is a growth focused company and has been public for about 2 ½ years. There is potential for close to double-digit dividend growth on top of the current 5.0% yield.
Turning your retirement savings into a consistent stream of income is no easy task. You might spend hours researching what stocks to buy, only to end up with more questions than answers.
There are thousands of stocks to choose from, but only a small percentage of that group are the right stocks for you to own. The best high-yield stocks need to have safe long-term businesses that print money every year no matter what the market does. Those are the only companies that can pay consistent dividends.
Note: This article originally appeared at Investors Alley.
Category: Dividend Stocks