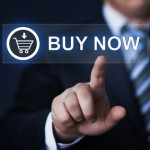 This little-known income stock gem just hit the market and has already started to surprise investors with its dividend growth. Invest in this stock today for many years of dividend growth and superior returns. 
The best-in-class income stocks usually earn this status with a long term history of superior performance. I have been known to follow a stock for over two years before I am convinced that it meets my criteria for an income stock that I will recommend to my newsletter subscribers. Yet occasionally a new income stock will launch into the market and very quickly show that it provides above average investment potential.
My evaluation of income stocks focuses on the three criteria of relative yield, safety of the cash flow to pay dividends, and dividend growth potential. The three factors are obviously interrelated, and as I analyze a stock for each, I keep in mind how they relate and how they stack up against other income stocks that I have recommended or are on my watch list. Relative yield is the current yield in relation to the growth rate. If a stock yields 8%, I will not be looking for a lot of dividend growth. In contrast, if a company is expected to grow its dividend by say 6% per year, I would be happy with a 5% yield. For reference, I maintain a database of about 130 real estate investment trusts –REITs– and that group has an average yield of about 4% and average trailing 12-month dividend growth of about 5%.
Determining the safety of the cash flow to pay dividends is the criteria that typically takes the most time to verify. I want to see a history of ongoing cash flow coverage of the dividend, and if the company is making acquisitions, a growing level of free cash flow per share. Once a history is established, I make my own growth projections and monitor the company's results every quarter to make sure the cash flow stream remains on track to support and grow the dividend.
Every new company that hits the market with a dividend-focused structure –REITs, BDCs, MLPs, etc.– states that it has a growth focused business plan. Many companies fail to deliver on the dividend growth promise. It's easy to acquire assets to grow revenue and management fees. It's a much more difficult task for a dividend-focused business to grow the cash flow per share at a level that allows meaningful dividend increases along the way. In most cases it takes a period of years for a management team to prove it can grow the income stream for investors.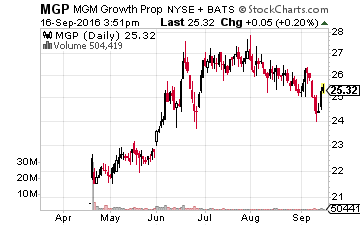 MGM Growth Properties LLC (NYSE: MGP) is a new REIT that came to market with an April 2016 IPO and has quickly shown that it can provide superior results in regards to all three of my income stock analysis criteria. Here is how MGP makes the grade in each area:
Safety: MGM Growth Properties was spun off by gaming company MGM Resorts International (NYSE: MGM) as a way to monetize some of MGM's casino real estate assets. While MGP has just the single client of MGM, the lease payments to the REIT are driven by a master lease that includes the revenue from 11 MGM properties. MGM makes a single lease payment that is backed by all of the included properties. In its worst year out of the past decade, MGM generated EBITDA that was 2.2 times the current lease payment. For 2015, coverage was 3.7 times the rent, and the 2016 EBITDA guidance is 4.0 times the payments to MGP. The cash flow to pay dividends is very safe.
Growth: In its IPO prospectus, MGM Growth Properties stated it would have an initial dividend rate of $0.3575 per share per quarter, or $1.43 per year. A smaller, pro-data rate of $0.2632 per share was paid for the less than a full quarter first payout. In its first five months of existence, MGP purchased an additional property interest from MGM, and the first full dividend announcement in September 2016 was for a payment of $0.3875 per share, an 8.4% increase above the initial rate. It is very rare to see a new REIT starting to grow its dividend this soon after its IPO. To generate future growth the REIT has the right of first offer on any new properties offered, acquired or completed by MGM. The master lease has a built-in 2% annual rent escalator and also participates in revenue growth experienced by MGM at the MGP owned properties. I expect MGP to nicely grow its dividend through future years.
Yield: With the new dividend rate, MGP now yields 6.3%. Remember that the average yield for REITs that have histories of dividend growth is around 4%. Currently, the undiscovered MGP gives you a 50% yield premium compared to older, better-known REITs of similar quality. I expect that premium to shrink as more investors learn about this stock. The mechanism to shrink a yield premium is for the stock price to go higher.
Note: This article originally appeared at Investors Alley.
Category: Dividend Stocks To Buy?