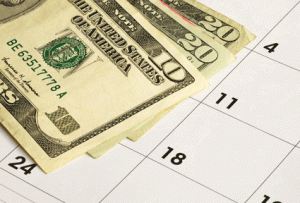 I receive a lot of questions concerning dividend dates. Income investors can help their overall returns by understanding when shares must be owned to be entitled to receive the next dividend payment. Buying shares of a stock after it goes ex-dividend means you won't receive the next declared dividend payment. You can quickly have cash income flowing into your brokerage account by buying stocks that will soon go ex-dividend.
Common stock dividends are declared by corporate Boards of Directors. There is no assurance that future dividends will be paid until an actual declaration has been released. Individual dividend announcements typically come on a quarter to quarter basis. At the time of a declaration, the Board may decide to increase the dividend rate, cut the dividend rate, keep the dividend the same, or even not pay a dividend. However, Boards of Directors understand that investors expect and count on steady dividend payments. Most dividend paying corporations work to sustain and grow their common stock dividend rates.
A dividend declaration includes three pieces of important information. One is the amount or dividend rate. This is a per share payment amount. The other two are the record date and payment date. Payment date is when the dividend would be credited to your brokerage account. To actually receive the dividend payment, you must be a "shareholder of record" on the record date. The payment date will be a few days to several weeks after the record date. Bottom line, to receive the next dividend you must be an "official" shareowner of the stock on the record date.
However, it's a little more complicated that just buying shares on the record date. In the securities world, there is a settlement process which allows time for the two parties of a trade to deliver their respective offerings. The seller delivers shares and the buyer delivers cash. For the stock market, trade settlement takes two business days.
So, to be an owner of record on the record date, you must have purchased the shares at least two business days before the record date. If you don't buy the shares early enough, you get shares that will not pay the next dividend, a status referred to as "ex-dividend" as in you don't get the dividend. A little math tells us that a stock goes ex-dividend one day before the record date.
We focus on the ex-dividend date because that is the date most often provided by financial news sources. You need to remember that when you see an ex-dividend date for the stock, you must buy shares at least one day before that date to earn the upcoming dividend.
A final piece of important information. On the ex-dividend date, the stock price will start trading at the previous closing price minus the dividend amount. This prevents traders from gaming the system to earn the dividend by owing the stock for just one day. For example, if stock XYZ closes the day before ex-dividend at $20 per share, with a pending $0.25 dividend, it will open the next morning at $19.75 per share. If it trades up to $19.80, that would be reported as up 5 cents.
Now that you are smarter than the average investor about ex-dividend dates, here are five stocks going ex-dividend between now and the end of February.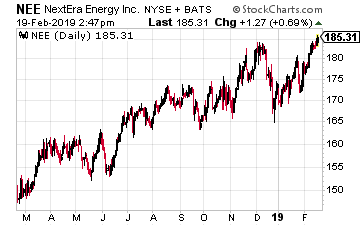 NextEra Energy, Inc. (NYSE: NEE) is a large-cap utility company. In fact, it is the world's largest utility company. The primary subsidiary is Florida Power & Light.
NextEra is also a large producer of electric power that it sells to other utility companies. NEE is a dividend growth stock, and the company just increased the quarterly payout by 12.6%.
The stock goes ex-dividend on February 27, with payment on March 15.
Current yield is 2.7%.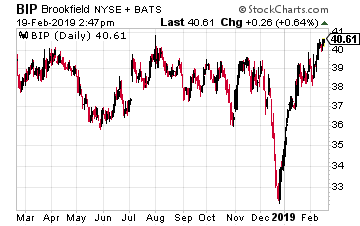 Brookfield Infrastructure Partners L.P. (NYSE: BIP) one of the largest owners and operators of critical and diverse global infrastructure networks which facilitate the movement and storage of energy, water, freight, passengers and data.
The company owns commercial real estate, toll roads, port assets, utility transmission lines and other similar assets around the world. The company just increased its dividend by 6.9%.
Current yield is 5.0%.
The BIP shares go ex-dividend on February 27 with payment on March 29.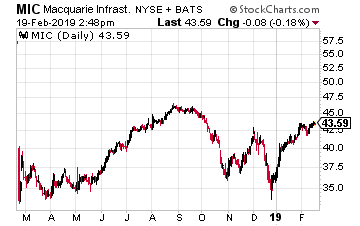 Macquarie Infrastructure Corp. (NYSE: MIC) owns bulk liquids terminals, a nationwide portfolio of aviation fixed base operations (FBO) companies, and power generation assets.
A year ago, MIC cut its quarterly dividend by 30%. The reduction makes the current rate sustainable and well covered by free cash flow.
The next dividend has not been announced, but the company should go ex-dividend in the first few days of March with payment a week later.
MIC yields 9.0%.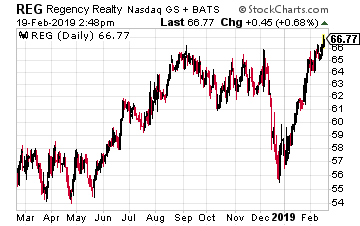 Regency Centers Corporation (NYSE: REG) is a national owner, operator, and developer of 426 shopping centers located in affluent and densely populated trade areas.
The company is organized as a real estate investment trust (REIT). This is a growth-focused dividend stock, and the payout was just increased by 5.4%.
Regency goes ex-dividend on February 22, with payment on March 7. (Too late to get this one before upcoming dividend. This article was originally published on February 20, 2019.)
Current yield is 3.6%.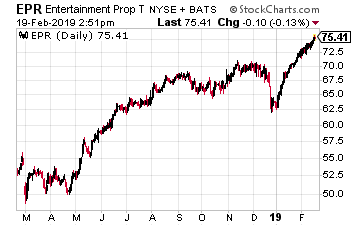 EPR Properties (NYSE: EPR) is a REIT that owns three distinctly different types of commercial properties. They are multiplex movie theaters, entertainment complexes such as Top Golf centers and urban ski facilities, and private and charter school properties.
EPR is a monthly dividend stock that has increased its dividend every year for eight consecutive years.
The next ex-dividend date is February 27 for payment on March 15.
EPR yields 6.0%.
Note: This article originally appeared at Investors Alley.
Category: Dividend Basics