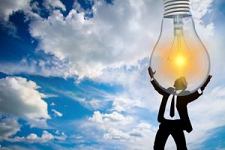 Each day it becomes clearer that the recovery in energy infrastructure stocks is underway. This is a sector that has been out of favor with investors since the early months of 2015. The continuing North American growth of crude oil and natural gas production is starting to be realized in the values of those companies that move energy products from the well head all the way to the end user. Investors now have more investment choices that do not come with the tax complicating Schedule K-1.
Since the early 1990's most of independent energy infrastructure assets have been owned by publicly traded master limited partnerships, often abbreviated to MLPs. These partnerships are tax efficient for the ownership of high cost, long life assets like pipelines, processing plants, storage facilities and energy product terminals. The tax advantages of depreciable assets get passed through to the owners of MLP limited partner units. MLPs were also known for paying attractive yields, with the distributions classified as non-taxable return of capital. The trade off for investors was the extra work at tax time to report partnership results from the Schedule K-1 forms sent out by MLPs to LP unit holders.
Up until the second half of 2014, the MLP sector was on a steep growth trajectory. Companies where building more energy infrastructure assets. As those assets started to generate revenue, the LP distributions were increased and MLP unit values marched steadily higher. MLPs handily outperformed the overall stock market.
At the end of 2014 and through the next year into early 2016, energy commodity prices, especially crude oil crashed. The entire energy sector of the stock market crashed, including MLPs and corporate pipeline companies that had been viewed previously as safe. The crash also cracked the MLP business models, which turned out to be over leveraged. These companies could not issue equity to pay for growth projects and the revenues on already owned assets started to fall. The sector was pushed into several waves of financial restructuring. These restructurings included asset sales and, in many cases, steep distribution reductions.
As part of rebalancing their finances, a number of energy infrastructure companies decided the MLP model no longer was the right structure. Partnerships with corporate sponsors/general partners were merged into the corporations. The depreciation on assets shields the corporate cash flow from corporate income tax. Other companies offer a parallel publicly traded business that tax reports on Forms 1099. There is a belief in the sector that more investors will be attracted to 1099 stocks, compared to K-1 reporting investments. Also, K-1 investments can cause tax problems if the shares/units are owned in a tax-qualified account such as an IRA.
One positive outcome of the problems experienced by the energy infrastructure companies over the last three years is that investors now have a greater selection of 1099 reporting stocks to choose from, if that is their preference. Here are three such stocks with attractive yields and strong dividend growth prospects.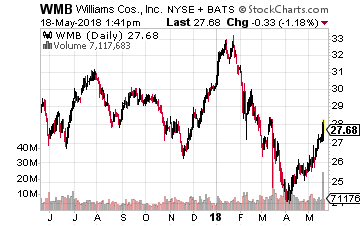 Williams Companies (NYSE: WMB) just announced it will buy up the 26% of Williams Partners L.P. (NYSE: WPZ) that it does not own. WPZ is the MLP controlled by WMB. Williams is primarily a natural gas and natural gas liquids (NGLs) services company. It owns the largest volume and fastest growing interstate pipeline system in the U.S., connecting the best supplies of natural gas and natural gas products to the best markets. The company owns over 33,000 miles of pipeline.
With the elimination of its MLP, Williams will have a stronger income statement. Cash flow coverage will be 1.7 times the dividends, which is very strong in this sector.
Management has indicated they expect the WMB dividend to grow by 5% to 6% per year. WMB shares currently yield 5.0%.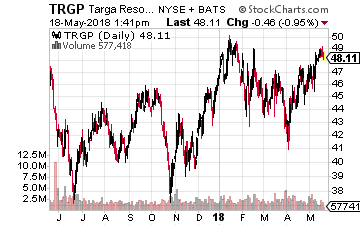 Targa Resources Corp (NYSE: TRGP) provides natural gas and NGL services primarily to the high production growth Permian energy play. According to company literature Targa engages in gathering, compressing, treating, processing, and selling natural gas, as well as in storing, fractionating, treating, transporting, terminaling, and selling NGLs, NGL products, refined petroleum products, and crude oil. The company also sells propane and provides related logistics services to multi-state retailers, independent retailers, and other end-users.
Targa was one of the first corporate sponsors to absorb its controlled MLP. That allowed the company to continue paying a steady dividend while others were reducing their payouts to investor. The dividend has been level since the start of 2016, with prospects for a return to dividend growth in 2019.
The shares yield 7.5%.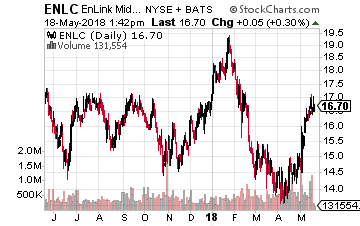 EnLink Midstream, LLC (NYSE: ENLC) owns the general partner interests of EnLink Midstream Partners, LP (NYSE: ENLK), a traditional energy midstream MLP. The EnLink duo are controlled and mainly provide infrastructure services to Devon Energy Corp. (NYSE: DVN). Devon Energy is a leading independent oil and natural gas exploration and production company. Devon has a $21 billion market cap. As the holder of the ENLK general partner incentive rights, the ENLC revenues will grow at a faster rate than the cash flow growth at the MLP. ENLC is structured as a corporation and sends out 1099's to investors.
The ENLC dividends are growing by about 5% per year and the shares yield 6.3%.
The #1 Stock to Retire on (Over $1 million in income up for grabs)
Retiring well doesn't have to be complicated. Forget "buy and hold" investments… forget options… forget Bitcoin…
One stock is all you need. And it's not a blue chip stock like Wal-Mart. Over your entire retirement, you should see over $1 million hit your bank account thanks to this stock.
If you're serious about a retirement with less financial worries, this #1 stock is your secret weapon. The first payout of the $1 million is days away.
Click here before you miss the window.
Category: Dividend Yield
Tim Plaehn is the lead investment research analyst for income and dividend investing at Investors Alley. He is the editor for The Dividend Hunter, an investment advisory delivering income investments with double digit growth in share price and dividend payments, and 30 Day Dividends, a specialty income service that takes advantage of opportunities for relatively fast, attractive profits around potential dividend payouts.