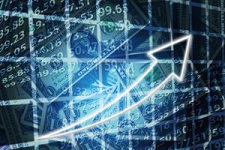 Investing in stocks with strong dividend growth has historically proven to be a powerful total return strategy. Mathematically, for a stock to stay at a certain yield, the share price must increase at a rate that equals the annual dividend growth rate. Long term results show that dividend growth stocks produce average annual returns that end up very close to the average dividend growth rate plus the average dividend yield.
Energy infrastructure stocks have a long-term record of attractive current yields and steady dividend growth. These are the companies that own pipelines, storage facilities, and loading/unloading terminals.
The energy commodity crash of 2015-2016 forced a lot of companies providing infrastructure services to restructure their growth plans and strengthen the balance sheets. A further drag on the energy infrastructure sector was that many of the companies in the group were organized as master limited partnerships (MLPs).
Over the last three years, MLPs have gotten a bad rap from investors. Few investors want to jump into a sector where values are falling and there are additional tax reporting requirements.
While many energy midstream (another term for the infrastructure sector) companies chose to cut or stop growing dividend rates, a handful of quality businesses have continued or restarted dividend growth. However, the market has not rewarded stocks with growing dividends with higher share prices to match the dividend increases.
In the midstream group, dividend cuts have resulted in lower share prices, but dividend increases have not. Currently dividend growth by midstream companies has not resulted in matching share price gains. The result is attractively high yields and the likelihood that share prices could move significantly higher to match both recent and future dividend increases.
Let's take a look at three high-yield stocks from the energy sector to consider for attractive total return potential going forward.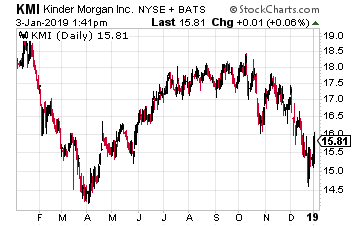 Kinder Morgan Inc. (NYSE: KMI) is one of the largest energy infrastructure companies in North America. The company owns an interest in or operate approximately 84,000 miles of pipelines and 152 terminals. The pipelines transport natural gas, gasoline, crude oil, carbon dioxide (CO2) and more. Terminals store and handle petroleum products, chemicals and other products.
At the beginning of 2016, the KMI dividend was slashed by 75% to a $0.50 per share annual rate. For the 2018 first quarter, the dividend was increased by 60% to a current $0.80 annual rate.
Management has stated the dividend will increase by 25% for 2019 and 2020. Dividends are expected to continue to grow strongly after 2020. In contrast, the KMI share price was above $22 at the end of 2016 and now trades around $16.
The market has not yet rewarded the strong resumption of dividend growth with a higher share price.
KMI yields 5.0%.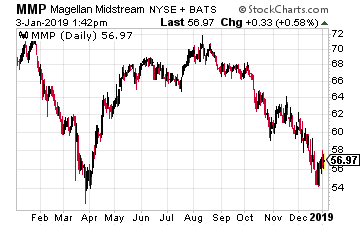 Magellan Midstream Partners LP (NYSE: MMP) is a publicly traded oil pipeline, storage and transportation company organized as an MLP. Currently, Magellan has 9,700-mile refined products pipeline system with 53 connected terminals as well as 26 independent terminals not connected to the pipeline system and an 1,100-mile ammonia pipeline system.
Also owned are 2,200 miles of crude oil pipelines and storage facilities with an aggregate storage capacity of about 28 million barrels, of which 17 million are used for leased storage.
The company operates five marine terminals located along coastal waterways with an aggregate storage capacity of approximately 26 million barrels.
For investors, Magellan has increased its dividend rate for 17 straight years. Unlike the typical MLP practice, the company has not issued additional equity to fund growth. Internal capital generation pays for growth projects.
The MMP distribution increases every quarter, currently at a high single digit growth rate yet the current unit price is down 28% over the last two years.
Current yield is 6.9%.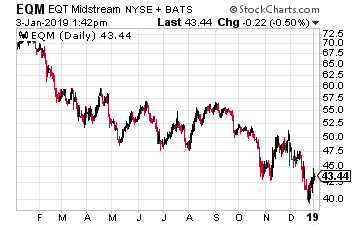 EQT Midstream Partners LP (NYSE: EQM) is an MLP that owns and operates a natural gas transmission and storage system serving the Marcellus and Utica basins.
The company owns a 950 mile FERC-regulated interstate gas pipeline that connects to seven interstate pipelines and is supported by 18 natural gas reservoirs. EQM has been a high distribution growth rate MLP, with the payout to investors growing at a 20% plus annual clip for the past five plus years.
Despite the distribution growth, the EQM value has dropped by 45% over the last two years.
Going forward, the company expects to continue distribution growth at a high single digit/low double digit rate.
Add that growth to the current 10% yield and you get very attractive total return potential.
Note: This article originally appeared at Investors Alley.
Category: Dividend Yield