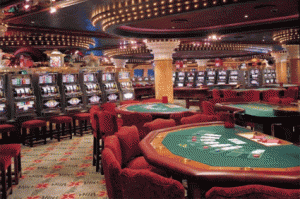 Have you ever looked at a stock chart that has moved up over a period of years and wish you could have bought shares way back when and participated in those gains?
Typically, individual investors don't become aware of an attractive income stock growth opportunity until years after the IPO and the early investors have reaped the big gains. Many investors find new investment opportunities when they see reports on individual stocks on the financial websites. Without coverage a stock can stay invisible to most investors. Here is one such stock that has very attractive income plus growth potential.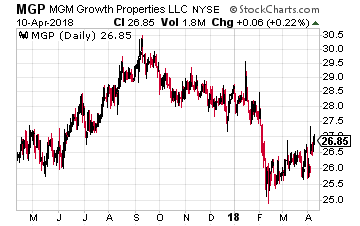 MGM Growth Properties LLC (NYSE: MGP) is a real estate investment trust that came to market in April 2016. As the name indicates, the new REIT was spun-off by hotel and gaming company MGM Resorts International (NYSE: MGM). At the IPO, MGM Growth Properties received title to seven properties on the Las Vegas Strip:
Mandalay Bay
The Mirage
Monte Carlo
New York-New York
Luxor
Excalibur
The Park, a dining and entertainment complex located between New York-New York and Monte Carlo.
The Las Vegas properties represent about 24% of total rooms on the Strip and approximately 35% of the privately-owned convention and meeting spaces on the Strip. The properties feature over 100 retail outlets, over 200 food and beverage outlets, and approximately 20 entertainment venues.
Outside of Nevada, at the IPO the REIT owned the MGM Grand in Detroit, the Gold Strike in Tunica, Mississippi and the Beau Rivage in Mississippi. Since the IPO, the REIT has purchased interest in one additional property from MGM, bringing the current portfolio total to 12.
All properties are being leased by subsidiaries of MGM under a single, triple-net Master Lease. Under the terms of the Master Lease, MGM paid MGP a starting annual rent of $550 million per year. The rent consists of a Base Rent of $495 million and $55 million of Percentage Rent. The Base Rent has a 2% annual escalator. The Percentage Rent is fixed for six years, and after that will be a percentage of revenue generated by the properties. The Master Lease has an initial lease term of ten years with the potential to extend the term for four additional five-year terms at the option of the tenant. The Master Lease states that any extension of its term must apply to all the properties under the Master Lease at the time of the extension. The lease has a triple-net structure, which requires the tenant MGM subsidiary to pay substantially all costs associated with each property, including real estate taxes, insurance, utilities and routine maintenance. MGM has agreed to provide MGP and its subsidiaries with financial, administrative and operational support services. Costs of these services will be reimbursed back to MGM.
MGP's rental income is now projected to be $757 million in 2018, up 38% from the amount at the time of the IPO. The MGP dividend has been increased twice and is now up 10% from the dividend projected in the IPO prospectus. With a pair of recently announced acquisitions, it looks like investors already have a built-in dividend increase or two for 2018. Just last week, on April 5, MGP announced its first outside the MGM family acquisition, with the $1.0 billion purchase of the Hard Rock Rocksino in Northfield Park, Ohio. The operating assets of the casino will be sold and as a REIT, MGP will retain the casino property. MGM is committed to using the REIT as a growth vehicle. With the combination of the master lease, which gives a high level of confidence that MGP will generate cash flow to support the dividend, and the early move into acquisitions to generate growth, I forecast MGP to be a high single digit dividend growth REIT for years to come. Add a 6.4% current yield to that growth and you have an attractive total return stocks.
The Monthly Dividend Paycheck Calendar is set up to make sure you receive a minimum of 6 paychecks every month and in some months up to 14 paychecks from reliable high-yield stocks built to last a lifetime.
This unique tool will set you up to receive a more predictable dividend stock income stream that you can count on every month instead of just once a quarter like most other investors. Joining my calendar by Friday, April 13, 2018 will give you the opportunity to claim an extra $2452 in dividend payouts by April 27th.
The Calendar tells you when you need to own the stock, when to expect your next payout, and how much you can make from these low-risk, buy and hold stocks paying upwards of 12%, 13%, even 18%. I've done all the research and hard work, you just have to pick the stocks and how much you want to get paid.
The next critical date is Friday, April 13, 2018 (it's closer than you think), so you'll want to take action before that date to make sure you don't miss out. This time, we're gearing up for an extra $2452 in payouts by April 27th, but only if you're on the list before April 13th. Click here to find out more about this unique, easy way of collecting monthly dividends.
Category: Dividend Stocks To Buy?
Tim Plaehn is the lead investment research analyst for income and dividend investing at Investors Alley. He is the editor for The Dividend Hunter, an investment advisory delivering income investments with double digit growth in share price and dividend payments, and 30 Day Dividends, a specialty income service that takes advantage of opportunities for relatively fast, attractive profits around potential dividend payouts.