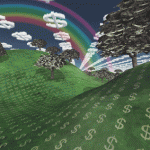 An increasing dividend combined with an attractive yield will produce a growing cash income stream and capital gains that are an unmatched tool for increasing your wealth. These five stocks are perfect starting points for investors looking to earn an accelerating income stream and market-beating returns.
For the majority of individual investors, it is a difficult if not impossible task to time the stock market. The combination of much bigger players in the market, a very short news cycle, and our own fears and greed make it near impossible to get the timing right to buy low and then sell high. Also, as someone who focuses on dividend stock analysis, I realize that you cannot earn dividends unless you actually own shares of stock. Because of these facts, I have recently been giving presentations on a new approach to total return investing through high dividend growth rate stocks.
The math of the strategy is straight forward. If a company increases its dividend, for the yield to remain the same the share price must increase by the same percentage as the dividend increase.
Here is a hypothetical example: If a stock that yields 4% has its dividend increased by 6%, to keep the yield level, the share price must increase by 6% and match the dividend growth rate. If you own the stock you get a total return of the 6% share price gain plus the 4% dividend yield, or an annual total return of 10%. Of course, the market is not this logical, so the share price will move up and down for a variety of short-term reasons. But, if you do look at the longer-term results from stocks that have steadily grown their dividends, you will find that the average annual total returns land close to the yield plus dividend growth rates. An example I like to use is Tanger Factory Outlet Centers Inc. (NYSE: SKT).
Here are the SKT dividend growth and yield numbers:
10-year average annual dividend growth: 7.37%
10-year average yield: 3.34%
Mathematical annual return: 10.71%
Actual annual compound return: 12.81%
Total 10-year return: 342%
Often the actual results are a little higher – 12.8% vs. 10.7% in this case – which I attribute to the compound effect of the dividend growth.
The logical conclusion to this strategy is that stocks with the highest dividend growth rates will produce the highest total returns. Typically this strategy may take a few years to play out, but in the meantime you can earn a reasonable and rapidly growing dividend yield. Here are five stocks that have recently been increasing their dividends at a very high rate – 30% plus growth. Your task is to research the companies to make your own determination if the growth rate can be sustained.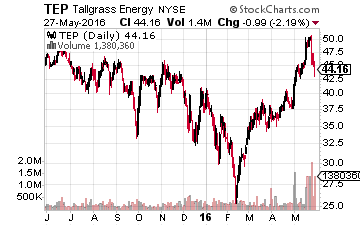 My method to predict future dividend growth is to watch and track quarterly and annual free cash flow per share growth. If a company can continue to grow that cash flow, the dividends should also increase at a similar rate.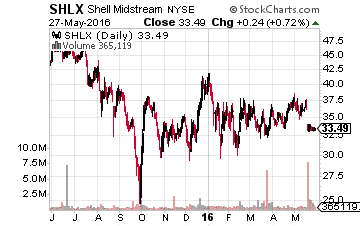 Tallgrass Energy Partners LP (NYSE:TEP) is a pipeline MLP that has been growing its quarterly distributions by greater 30% year-over-year since the company's IPO in mid-2013. Management's forecasts continued 20% or greater distribution growth. The stock yields 6.5%.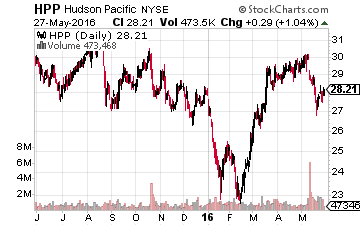 Shell Midstream Partners LP (NYSE:SHLX) was spun-off by Royal Dutch Shell plc (NYSE:RDS.A) as an ownership vehicle for the energy giants North Americanmidstream infrastructure assets. The SHLX distributions have been growing at a 35% annual year-over-year pace. The stock yields 2.8%.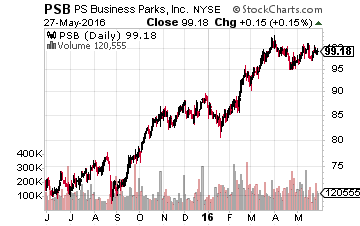 At the end of 2015, Hudson Pacific Properties Inc (NYSE:HPP) increased its dividend by 60%. This was the first increase in several years for the office and entertainment properties REIT. The new dividend rate is still only about half of the reported funds from operations (FFO) per share. HPP yields 2.8%.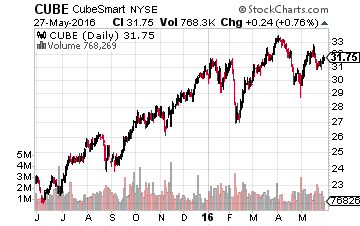 In March 2016, office and industrial park REIT PS Business Parks Inc (NYSE:PSB) increased its dividend rate by 50%. This is after a 20% increase in 2015 and a 13% increase in 2014. The stock yields 3.0%.
Self-storage is one of the fastest growing REIT sectors, and at the end of last year CubeSmart (NYSE:CUBE) increased its dividend by 31%. The stock currently yields 2.6%.
Finding stable companies that regularly increase their dividends is the strategy that I use myself to produce superior results, no matter if the market moves up or down in the shorter term. The combination of a high yield and regular dividend growth is what has given me the most consistent gains out of any strategy that I have tried over my decades-long investing career.
And, there are currently over twenty of these stocks to choose from in my Monthly Paycheck Dividend Calendar, an income system used by thousands of dividend investors enjoying a steady stream of cash.
The Monthly Dividend Paycheck Calendar is set up to make sure you receive a minimum of 5 paychecks per month and in some months 8, 9, even 12 paychecks per month from stable, reliable stocks with high yields.
Category: Dividend Stocks