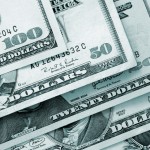 Investing for a dividend payment that increases every year has been the favorite strategy of the world's wealthiest investors for decades. With these five stocks, you can earn a pay raise every year and start building wealth that will last generations.
We are almost at the end of another year, and I hope your dividend income stream has marched steadily higher throughout 2016. One bit of assistance I like to provide is to list those real estate investment trusts –REITs– that should announce higher dividend rates in the upcoming months. This knowledge can give you a jump on the rest of the investing public, which will be surprised when the positive news is actually announced.
I maintain a database of about 130 REITs. With it, I track current yields, dividend growth rates, and when these companies usually announced new dividend rates in the past. The majority of REITs announce a new dividend rate once a year, and then pay that rate for the next four quarters. Currently, about 90 REITs in my database have recent and ongoing histories of dividend growth. Out of that group, higher dividend announcements will happen during almost every month of the year. The REIT sector has sold off, dropping about 15% since early August. At the same time, actual earnings results have met or exceeded expectations and funds from operations, the cash to pay dividends, has continued to grow. Lower share prices means that current yields are higher. On average, REIT yields are now about 0.8% higher than they were in early August. Higher dividend announcements may be the catalyst that start the price recoveries for individual REIT shares.
My list shows five companies that historically announce higher dividends in December and should do so again this year. Investors will start earning the higher payouts in the new year. But remember, you want to buy shares before the dividend announcement in order to get the benefit of a share price bump caused by the positive news event. Here is the list of REITs to consider: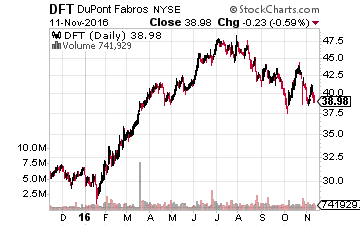 DuPont Fabros Technology, Inc. (NYSE:DFT) is a data center REIT. Data centers have been one of the fastest growing REIT subsectors, and future prospects remain very attractive. Last year this company increased its dividend by 11.9%. Based on results from the first three quarters of 2016, I expect something close to a 10% increase to be announced in December. The new dividend rate will be announced in early December, with an ex-dividend date near the end of the month and payment in mid-January. DFT currently yields 4.8%.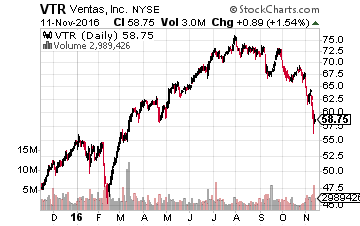 Ventas, Inc. (NYSE:VTR) is a large-cap REIT that owns a portfolio of properties leased by companies providing the full range of healthcare services. Ventas has done very well for investors, growing its dividend at a compounding 9% annual rate for the last 10 years. In 2015, the company spun off the majority of its skilled nursing care properties into a new publicly traded REIT called Care Capital Properties Inc.(NYSE:CCP). With the August 2015 spin-off, Ventas adjusted its dividend lower to account for the lost revenue and did not increase the rate in December last year. The VTR dividend has been level for five straight quarters. Management has announced that a new, higher dividend will be declared in December. I expect a 5% to 8% increase in the quarterly payout. The next dividend will be declared on about December 10, with a mid-month ex-dividend date and payment at the end of the year. VTR yields 4.6%.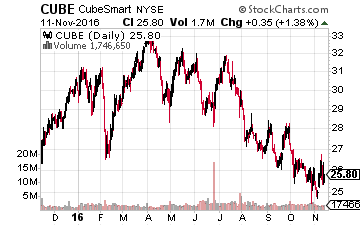 CubeSmart (NYSE:CUBE) is a mid-cap self-storage properties REIT. This has been a fast growth REIT, with a tripling of its dividend over the last five years. Growth in the self-storage space has moderated, but this means a decline to the low teens in annual growth from the previous 20% per year rates. I am looking for a 10% to 15% dividend boost this year. The new dividend rate will be announced in early December. The stock will go ex-dividend at the end of December with payment in mid-January. CUBE yields 3.4%.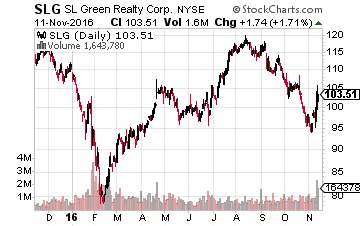 SL Green Realty Corp (NYSE:SLG) develops, owns and finances all types of commercial real estate located almost exclusively on the island of Manhattan. SL Green has increased its dividend by 20% in each of the last two years. I expect a low teens increase this year. The new dividend should be announced during the first few days of December. Ex-dividend will be near the end of the month, with the payment in mid-January. SLG yields 3.0%.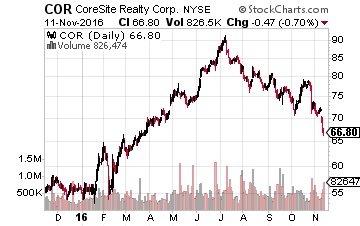 CoreSite Realty Corp (NYSE:COR) is also a data center REIT and is also one of the fastest growing companies in the REIT sector. Last year the company increased its dividend by 26%. Free cash flow, the money used to pay dividends, has grown by 21% over the last year. Another 20% dividend boost is very possible. The new dividend will be announced in early December, with ex-dividend at the end of the month. The new dividend will be paid in mid-January. COR yields 3.0%.
Note: This article originally appeared at Investors Alley.
Category: Dividend Stocks To Buy?