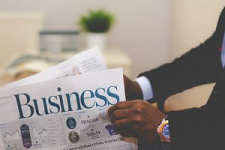 Creating mountains out of mole hills once again, the financial media circus has been peddling rumors and half-truths in the name of "reporting". But for the wise investor that means the opportunity to purchase quality stocks at an amazing discount. Tim Plaehn shares five such stocks that are great purchases right now and that have yields going all the way above 8%.
A recent Wall Street Journal article titled, Oil Up? Oil Down? Blame the Algorithms, points out a problem with financial news and how it affects values. Here is a quote from the article: "An increasing number of market participants are being swayed more by the headlines than by counting physical barrels," said Michael Tran, director of energy strategy at RBC Capital Markets. "A lot of this has been driven by algos and quants."
There are some themes that have been taken by the financial news reporters as facts when the fundamentals continue to strongly contradict those beliefs. The result has been share price declines for stocks that are in industries that would be hurt if these news themes were actually accurate. Investors who have a better grasp of the fundamentals are now in a position to buy undervalued stocks when the hot news themes prove out to be not part of reality. I recommend higher-yield stocks in these sectors, so an attractive income can be earned while waiting for the facts to win out over the fantasies.
Here are those themes, why they are wrong, and some stocks to buy:
The world has too much oil. Consumption is declining, production is too high, the amount of oil in storage is growing so the price of a barrel must drop to $30. Over the last three years, there has been too much oil in storage, and that caused the price of crude to drop into the $20's in early 2016. Now, however, the world is consuming more oil than is being produced.
First, despite the belief electric cars are taking over, global consumption continues to grow. The U.S. Energy Information Agency recently reported that worldwide consumption grew by 1.5 million barrels per day in the 2017 second quarter. This was up from a one million bpd increase in the first quarter. Quietly, the amount of oil in storage has been dropping. This chart highlights the weekly declines in U.S. oil storage. The total drop is over 40 million barrels.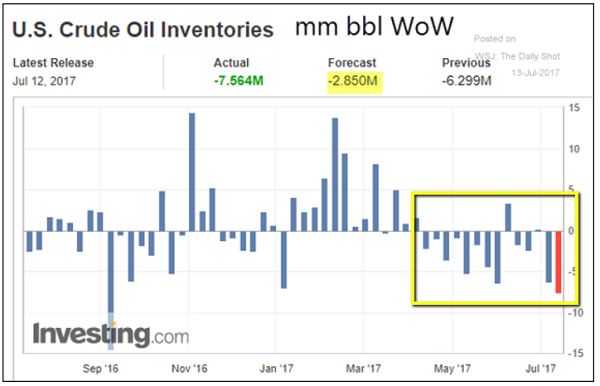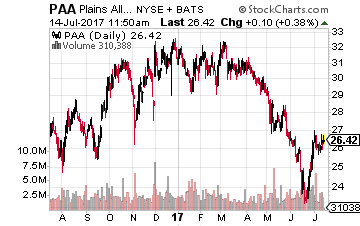 The facts of growing oil consumption, falling oil in storage and record low new production investment over the last two years indicate that soon the market will realize that oil has shifted from surplus to shortage. The price will move strongly higher and U.S. shale producers will be in the driver's seat.
I recommend Plains All American Pipeline, LP (NYSE: PAA) as a high-yield way to profit from the growing dominance of U.S. oil production and rising energy prices. Plains owns a network of crude oil gathering, pipeline, and storage that has plenty of capacity to add new fee-paying barrels of oil. PAA and its IRS Form 1099 counterpart, PAGP, currently yield 8.3%.
E-commerce is huge and will wipe out traditional brick and mortar retailers. If you read or watch the financial news, it's easy to get the impression that the traditional retail stores are losing all their sales to online retailers, especially Amazon, and will rapidly go out of business. The reality is that online sales make up only a fraction of total retail in the U.S. According to the U.S. Census Bureau.
In the 2017 first quarter-commerce sales were 8.5% of the U.S. total. Amazon accounted for 43% of the online portion or 3.6% of the entire total. Amazon is a very larger retailer but still accounts for less than 4% of total sales. The reality is that some retail sectors, such as apparel, are very competitive with new companies starting all the time and as many failing and going bankrupt.
There is also a wide range of success with brick and mortar stores and shopping centers. Some are in the right places and tremendously profitable and others have been left behind by newer offerings or changing local demographics. The "news" about e-commerce taking over the world has led to share price declines of high-quality, dividend-growth REITs.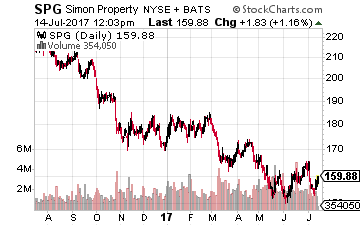 Simon Property Group Inc (NYSE: SPG) owns top-tier shopping malls. This REIT has increased its dividend 11 times in the last five years. Yet, the SPG share price is down 30% over the last year. This is a tremendously well run and profitable company now selling at a deep discount. The shares yield 4.4%.
National Retail Properties, Inc. (NYSE: NNN) is a net-lease REIT that owns over 2,500 single tenant retail properties. NNN's tenants have businesses that cannot be replaced by online sales. These are convenience stores, fast food outlets, fitness centers and auto service locations. NNN is well run and has increased its dividend for 27 consecutive years. Yet the share price is down 15% due to the e-commerce news noise. NNN yields 4.7%.
Electric cars will soon be everywhere and sales will outnumber gasoline powered vehicles. If you listen to the financial news, you might believe this. But the fact is that crude oil consumption continues to increase and is forecast to keep growing.
Consider this typical headline from a recent announcement by Volvo cars: "Volvo to electrify all its cars from 2019".
What Volvo actually said was starting in 2019, every all-new model that Volvo introduces will be either a fully electric vehicle or a hybrid, including so-called "mild hybrids". That's two years out, and currently, Volvo is the one major automaker that doesn't sell a fully electric car. It's coming late to the party.
Would Volvo have much effect anyway? I checked the sales numbers, and U.S. buyers purchase more full-size, gas guzzling pickup trucks every week than the total number of Volvos sold in the U.S. in a full year. Again, the financial press made a big deal out of what is at its core, very small news. The real stars in the vehicle world are the fuel refiners. They become more efficient, clean and profitable every year.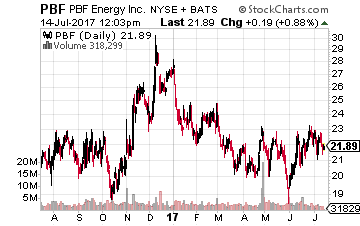 PBF Energy Inc (NYSE: PBF) owns five refineries spread across the U.S. The company has paid a steady $0.30 quarterly dividend through the cycles of the refining industry and the stock yields 5.5%. PBF is down 22% this year and poised for a strong rebound.
To hedge your gasoline bet, own some ONEOK, Inc. (NYSE: OKE). This company is a large natural gas gathering, processing and transport business. If electric cars do work out, the electricity will primarily come from natural gas fired powerplants, not windmills. OKE currently yields 4.7%.
Note: This article originally appeared at Investors Alley.
Category: Dividend Yield