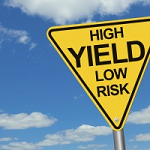 Having multi-year track records of increasing dividends, these high-yield stocks represent some of the top-tier income investments that can be owned. Buying stocks with accelerating dividend payments is one of the most sure-fire ways for building long-term wealth. 
As a dividend-focused stock analyst, I put less emphasis on short-term share price fluctuations and more on dividend yields and dividend growth prospects. When the market is hitting new highs, such as what we have experienced in the first month of 2017, it is good to go back to the basics of dividend investing, which for me is dividend growth.
A growing payout should, over time, result in a higher share price. One nice way to get a quick start to capital gains from dividend growth is to buy shares just before an announced dividend increase.
I maintain a database of about 130 real estate investment trusts (REITs) which I use to track yields and dividend growth. The typical REIT increases its dividend rate once a year, at about the same time each year. Across the REIT universe, the higher dividend announcements come in almost every month of the year.
Each month I like to cover the REITs on my list that have historically increased their payouts in the following month. You can use this information to establish longer-term positions in stocks with growing dividends or try for the short-term capital gain that often occurs when a dividend increase is announced. Here are the potential REIT dividend increases for March.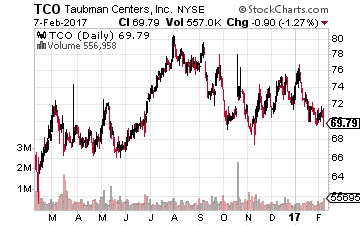 Taubman Centers, Inc. (NYSE:TCO) acquires, develops, owns and operates regional and super-regional shopping centers. The company has grown its dividend by a 6% annual compound growth rate for the last 10 years. The payout rate was boosted by 5.3% last year. In 2016, the company focused on de-leveraging its balance sheet.
However, the company continues to develop new projects and redevelop existing properties. The current dividend rate is 66% of 2016's funds from operation (FFO)/share cash flow guidance, so a moderate dividend increase is possible to keep the growth track record going. Taubman Centers should announce the new dividend rate in early March. TCO yields 3.36%.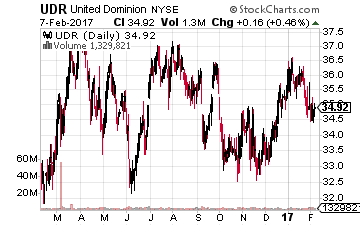 UDR, Inc. (NYSE:UDR) owns and operates multi-family apartment complexes. The company increased its dividend by 6.3% last year and has averaged annual dividend growth of 8.6% over the last five years. Adjusted FFO per share was up 8% for the first nine months of 2016.
Apartments have recently been viewed as a hot REIT sector that is slowing. Recent results from other apartment REIT have reported continued above average growth. UDR should announce its new dividend rate in the second half of March. UDR yields 3.4%.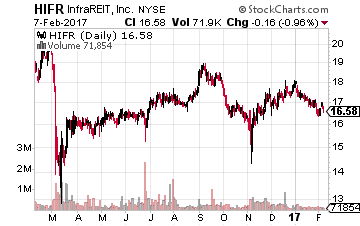 InfraREIT Inc. (NYSE:HIFR) is a REIT that owns electric power transmission and distribution assets in Texas. The company came to market with a January 2015 IPO. After its first year, the HIFR dividend was boosted by 11.1%.
For the first nine months of 2016, adjusted FFO per share was 9% higher than the same period in 2015. A high single-digits dividend increase is very possible. The next dividend announcement will be in early March, with an end of March record date and payment around April 20. HIFR currently yields 5.9%.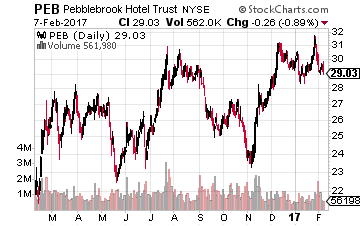 Pebblebrook Hotel Trust (NYSE:PEB) acquires and invests in upper-scale, full-service hotel and resort properties located in or near urban markets in major United States gateway cities. Revenue and cash flow growth in the REIT hotel sector slowed dramatically in 2015 into 2016. As a result, most of the REITs in the sector did not increase their dividends in 2016.
Pebblebrook was an exception, boosting its payments to investors by 22.6% last year. The company's adjusted FFO per share was up 17.6% for the first three quarters of 2016, so another double-digit increase is very possible. Pebblebrook should declare its next dividend in mid-March with an end-of the month record date and mid-April payment date. PEB currently yields 5.2%.
The four stocks above are model high-yield stocks. Their growing dividends put them ahead of many other high-yield stocks in the REIT sector, and the potential for dividend growth is always on of the features I look for and recommend in my high-yield income newsletter,  The Dividend Hunter.
Note: This article originally appeared at Investors Alley.
Category: Dividend Yield