Don't settle for small dividend payments that won't even help you pay the bills. With yields of 11.9%, 8.4%, and 9.0%, these three stocks with rock-solid cash flow and big dividends should be owned in every income investor's portfolio, but there's a great chance you haven't seen them on CNBC. 
With the market setting new highs every week, I am most often asked if I think there will soon be a sharp decline in share prices. As I told the subscribers of one of my newsletters on a live call last week, I don't see any signs that a market correction is imminent, but that doesn't mean we won't experience one in the near to intermediate future.
The current market conditions are very different from the stock action over the last several years. Since the election, the major market has marched steadily higher, without any significant down days. In the years before the election, there were regular shifts between nice up moves and scary down days for the indexes.
Now, stock price volatility is being measured at historically low levels. As long as the economic news remains upbeat, it is possible that the market will continue its upward trajectory. You don't want to be out of the market and miss out on the continuation of the current upward trend.
At some point, the market will break out of this low volatility situation, which means market indexes will experience some significant daily declines. When share prices actually start to drop, there is the potential for investors to catch the fear bug and start to sell shares to lock in recent gains. This selling could trigger a larger wave of panic selling and push the market right into correction territory, which would be a greater than 10% decline from the recent high point.
If the market does enter a correction, do not be a lemming and rush to sell your stocks. With a stronger economy, the market will recover and continue to move higher. I spend a lot of time talking to my newsletter subscribers about how we take advantage of market corrections and view them as opportunities to buy shares of quality, dividend paying stocks at discounted prices (P.S. my Dividend Hunter subscribers booked an over 20% gain in safe dividend stocks last year, and that's without adding in any of the huge payments we collect every month).
Currently, it is tough to find good values if you have cash you want to put to work in the market. However, there are some high-yield stocks of quality companies that have not kept up with the overall trend of rising share prices. These are stocks that will pay you a high current yield that you can count on as a future income stream. They are also stocks that have the opportunity for share price gains if the market takes another leg higher. Finally, the dividend payments from these stocks are safe, which means you can confidently buy more shares if the market goes into a correction.
Here are three stocks that meet the discussed criteria: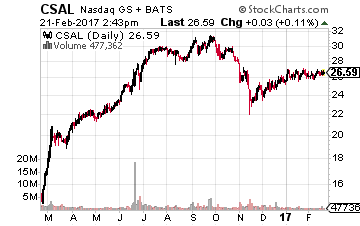 Communications Sales & Leasing Inc. (Nasdaq: CSAL) is a real estate investment trust (REIT) with a unique type of business.
The company was spun-off by telecom company Windstream Holdings, Inc. (Nasdaq: WIN) in an April 2015 IPO. With the spin-off, CSAL received Windstream's fiber and copper wire landline assets. These assets are leased back to Windstream on a 20-year net lease contract.
Since the IPO, CSAL has been acquiring additional landline and cell service related infrastructure assets. The current $0.60 quarterly dividend is secured by the Windstream lease. The added assets will at some point allow CSAL to start growing its dividend. Currently at $26.50 per share, the stock is down from when it traded above $32 last fall. I expect it to again reach that previous high. CSAL yields 9.0%.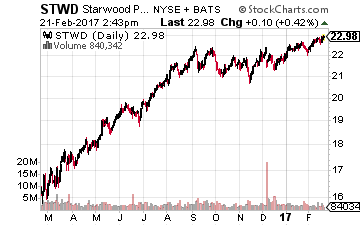 Starwood Property Trust, Inc. (NYSE: STWD) is a finance REIT that originates commercial property mortgages. Over the past three years, STWD has made several
acquisitions, including a commercial mortgage servicing business, that have significantly enhanced the company's profitability and stability. Those new business lines have not been realized in the share price. From its current $22.90 value, STWD could easily be a $27 to $30 stock. The shares yield 8.4%.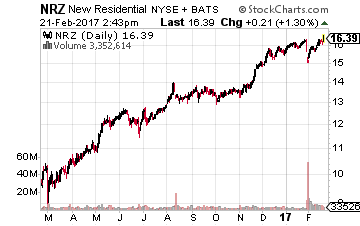 New Residential Investment Corp. (NYSE: NRZ)
may be the most undervalued stock in the high-yield universe. This company has proven over and over again that it can find undervalued assets and use their financial skills to turn those assets into high cash flow return investments. With the recently announced dividend increase, the NRZ quarterly payout has grown by 26% over the last three years. At a current $16 per share, I think this should be a $20 plus stock. NRZ yields 11.9%.
With a combined 9.7% yield, the high potential for increased dividend growth, and a huge margin of safety, this small dividend stock portfolio represents a small slice of the research I try to provide income investors. Finding high-yield stocks with growing dividends and safe payments is always one of the features I look for and recommend in my high-yield income newsletter, The Dividend Hunter.
Note: This article originally appeared at Investors Alley.
Category: Dividend Stocks