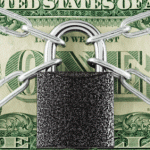 It's no secret that it has been difficult to find any "deals" in the stock market right now. However, dividend and growth investors alike should be able to find something that they like in these three stocks with attractive yields and great growth prospects. 
Last week at the Las Vegas MoneyShow, the organizers kept me pretty busy. I made two presentations on different strategies for dividend-focused investors, covering both high-yield stocks and buying growing dividend stocks for total returns.
I also was the moderator of two panels of representatives from dividend-paying companies. On the panels, each of the company representatives gave a short talk about their company and then took questions from the audience. Here are some of my impressions about each of the REITs that were represented on the panels.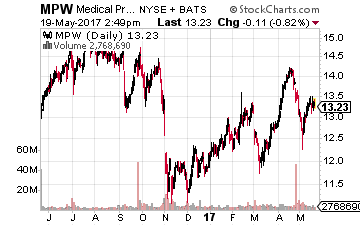 Medical Properties Trust, Inc. (NYSE:MPW) was represented by Tim Berryman, Director of Investor Relations. I was interested to learn that Tim played several years in the Canadian Football League.
MPW is a pure-play owner of hospitals and has the largest single owner portfolio of hospitals in the U.S. My biggest takeaway from Tim and the questions he answered is that hospitals are one of the most recession resistant commercial real estate sectors.
Even if economic growth slows, hospital reimbursement rates will continue to grow, not to mention the hospitals in the MPW portfolio have very good revenue and gross profit coverage ratios of the rental payments.
MPW's lease contracts have built in annual price escalators that will keep the revenue growing. The company has expanded internationally and is very positive on the ownership of hospitals in Western Europe. The current dividend is 70% of normalized FFO per share. MPW currently yields 7.25%.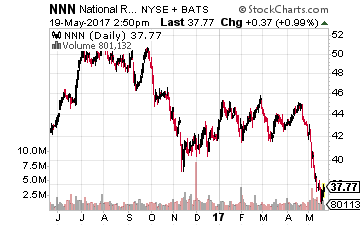 National Retail Properties, Inc. (NYSE:NNN) was represented by Christopher Barry, Vice President of Corporate Communications. Chris has been with NNN for 22 years and is a strong and knowledgeable spokesman for the company.
NNN is a net lease REIT that owns over 2,500 single tenant, freestanding retail properties. Chris answered numerous questions about the current "death of retail" fear that is hitting the retail and shopping center REITs.
The primary answer was that most of the REIT's tenants are in a business that cannot be hurt or replaced by online sellers. The top types of businesses are convenience stores, casual and fast food restaurants, auto service shops, fitness outlets, movie theaters and auto parts stores.
When acquiring new properties NNN focuses on buying stores with great locations over high-quality tenants. The good locations mean that the tenants will be successful and be able to pay the rents. Also, if a tenant does leave, it will be easier to re-lease a property in a great location.
NNN is a Dividend Aristocrat and has increased its dividend for 27 consecutive years. The current dividend is 67% of FFO. Dividend growth has been about 4% per year and the current yield is 4.9%. NNN is a very high-quality REIT with a stock that is currently on sale.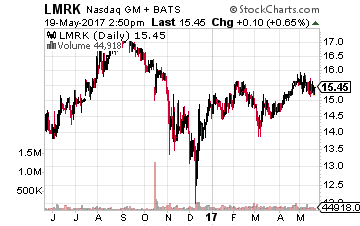 Landmark Infrastructure Partners LP (Nasdaq:LMRK) was represented by George Doyle, CFO, and treasurer of the sponsor, Landmark Dividend LLC. Landmark Infrastructure is a small-cap company that launched with a late 2014 IPO.
The company owns and leases the land under cell towers, outdoor advertising billboards, and renewable power windmills. You may have noticed that this is a publicly traded limited partnership organized as an MLP. This structure is due to the small size of LMRK and the relationship with the sponsor, which handles all of the acquisition and business expenses.
The company is doing a restructure so that all of the assets will be owned by a REIT that is owned by the MLP. The result will be a Schedule K-1 sent to investors that has just one line listing the dividends paid and will not incur any unrelated business income. That makes LMRK shares safe for IRAs.
This is a small company with assets that take a lot of work to find and acquire. If the sponsor does its job, this will be a very attractive income stock. LMRK yields 9% and has been increasing its dividend every quarter.
Note: This article originally appeared at Investors Alley.
Category: Dividend Stocks To Buy?