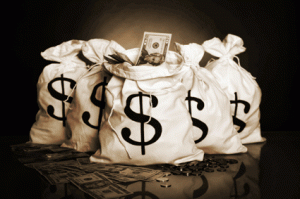 Mega cap stocks are the largest the market has to offer. These stocks tend to be very recognizable and familiar brands for both consumers and investors. They also generally have more predictable revenue and earnings streams, in addition to the majority of them paying meaningful dividends. With more stability during downturns, these stocks offer investors an attractive blend of predictability, growth and yield as a group.
There are typically around 25 or 30 stocks that meet our definition of mega cap, which is a market capitalization of $200 billion or greater, so there are plenty to choose from for those inclined. In this article, we'll take a look at three of the best mega cap stocks to buy today.
Mega Cap #3:  Apple, Inc. (AAPL)
Apple is one of the largest companies in the world with a current market capitalization of $749 billion. As impressive as that is, it is well off of the company's peak capitalization, having been the first company to ever have a stock market value in excess of $1 trillion. The company still gets most of its revenue from the design and manufacture of mobile devices, including smartphones, laptops and tablets. However, its once-fledgling services business would be an enormous company on its own, helping to boost not only the top line, but margins as well.
The company reported its most recent quarter on 11/1/18 and results were strong, as they typically are for one of the world's most successful companies. Revenue hit a new record for Q4 as it expanded 20% while services revenue alone soared 27% to $10 billion. Strength was seen across the company's product assortment and a bit of SG&A leverage helped the company boost earnings-per-share by 41%.
Dividend investors will be interested to know that the dividend is also 16% higher than it was last year as Apple continues its journey towards returning more and more cash to shareholders. The company's dividend is only six years old, but has been raised at double digit rates and should continue to be. The payout ratio is under one-quarter of earnings and Apple has hundreds of billions of dollars in cash on its balance sheet. The current yield is just under 2%, but Apple should be a strong dividend growth story for many years to come.
We expect earnings to grow at 8% annually in the years to come as Apple continues to boost sales of devices as well as grow the service revenue portfolio. This should help expand not only the top line, but profitability as well.
In total, we see Apple producing mid-teens total returns thanks to earnings growth, the dividend and a reflation of the valuation. Indeed, Apple trades for just 74% of our fair value estimate today, implying mid-single digit annual returns from a higher valuation alone. The stock offers investors a blend of value, safety, yield and dividend growth today that is tough to match.
Mega Cap #2:  Bank of America (BAC)
Bank of America is one of the largest financial institutions in the US with $90 billion in annual revenue and a market capitalization of $242 billion. The bank nearly went out of business during the financial crisis but has spent years rebuilding and de-risking itself to become a leaner, stronger bank than it was before. It is a highly diversified financial, competing in core banking activities like deposit-taking and lending, but also wealth management, trading and investment banking activities, among others.
The bank reported its most recent earnings on 10/15/18 and results were healthy. Each of its reporting segments posted a gain in earnings with Consumer Banking leading the way, having seen its earnings soar 49% year-over-year. Bank of America continues to post strong operating leverage as it boosts revenue over time while simultaneously reducing expenses, which we see as a key source of future earnings growth. In total, Q3 earnings-per-share rose 43% against the comparable period.
Bank of America's yield is 2.4% today, but shareholders with long memories will recall when the yield was virtually nothing. The bank has boosted its payout for five years now and given that the payout ratio is near 20%, we see continued dividend growth for many years to come. Bank of America has immeasurably repaired its balance sheet and risk profile in recent years, meaning another financial crisis shouldn't result in the same meltdown as it did last time.
We see Bank of America posting 8% average earnings growth in the years to come and combined with a 2.4% yield, strong dividend growth prospects and a cheap valuation, the stock should produce mid-teens total returns in the years to come. The stock trades for just 72% of our fair value estimate today, implying a mid-single digit tailwind to annual total returns as the valuation moves back to more normalized levels. For investors looking for a mega cap financial, Bank of America should fit the bill.
Mega Cap #1:  AT&T (T)
AT&T is a leading provider of telecommunications and digital entertainment services globally, but is focused in the US. The company enjoys a diversified revenue stream that affords it $170 billion in annual revenue, while the stock trades with a market capitalization of $207 billion after a protracted selloff in recent months.
AT&T's most recent earnings report was released on 10/24/18 and results were largely in line with our expectations. Total revenue increased 15% year-over-year thanks mostly to the addition of Time Warner, which was partially offset by some weakness in the Latin America business. The ex-Time Warner business saw some profitability improvements which helped drive earnings-per-share 22% higher against the comparable period. Importantly, free cash flow rose 16% year-over-year as operating margins rose 310bps. The stock fell on the report and has fallen even further of late, but we see the report as a continuation of positive operating trends.
Of course, AT&T's dividend is the major draw for shareholders and today, the stock yields in excess of 7%. The dividend costs the company just under $10 billion annually but free cash flow has come to nearly $15 billion in just the first three quarters of the year. In other words, the dividend is very safe and very well covered by free cash flow. In addition, AT&T raises the payout each year, extending its streak of dividend increases recently to an impressive 34 years, making it part of the desirable Dividend Aristocrats.
In total, we see AT&T producing in excess of 20% total returns annually in the years to come. Earnings growth should amount to 6% or so per year as the Time Warner business and profitability gains collectively fuel the next leg of earnings expansion, while the 7% yield and a high single digit tailwind from a rising valuation help as well. We see AT&T as trading at just 61% of our fair value estimate today, so significant gains will accrue to shareholders should the stock return to more normalized levels.
Final Thoughts
Mega cap stocks as a group offer investors the largest and generally most successful companies in the world. The stability provided by their revenue and earnings streams is desirable during downturns and their yields, including the stocks in this group, are typically very safe. The three stocks in this list offer investors outsized return potential in the years to come.  Market selloffs are generally a chance to buy high-quality names at depressed prices and elevated yields, and these stocks are a good place to start.
Note: This article originally appeared at Modest Money on January 1, 2019. It was contributed by Sure Dividend.
Category: Dividend Stocks To Buy?