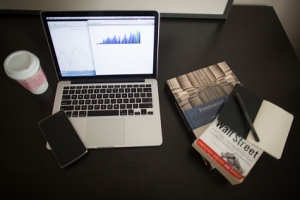 Income investors can quickly search for potential buying opportunities by screening for the highest-yielding stocks in the S&P 500 Index. While the S&P Index as a whole has an average dividend yield of just 1.8%, many individual stocks within the index offer much higher yields.
Income investors, such as retirees, have good reason to favor high-yield dividend stocks. With the stock market racing to record highs amid a 10-year rally, and interest rates still low, yield is hard to find. That means investors who desire income in retirement are in a difficult position. This is why dividend stocks can be so valuable for investors.
But investors should remember that just because a stock has a high yield, does not necessarily mean it is a buy. At times, a high dividend yield is a warning sign that the underlying business is in trouble. If a share price declines, its dividend yield rises, and a sky-high yield could be a precursor to a dividend cut. The following 3 stocks have the highest dividend yields in the S&P 500 and may be worthy of additional consideration for income investors.
High-Yield Stock #3: Kimco Realty (KIM)
Kimco Realty is a Real Estate Investment Trust, commonly referred to as a REIT. The business model is to purchase and own real estate properties, which are leased out to tenants. Kimco collects rental income, which can be used to invest in new properties. This process results in a "snow-ball" effect of steadily-rising cash flow over time. Its strong cash flow also allows the company to pay a hefty 6.7% dividend yield, making it the third-highest yielding stock in the S&P 500.
Kimco is one of the largest owners of shopping centers, with an owned interest in 475 U.S. shopping centers as of 3/31/18.
On 4/26/18 Kimco reported strong first-quarter financial results. Funds from operation (FFO), a common metric utilized by REITs instead of earnings-per-share, increased 5.4% for the quarter, driven by higher occupancy and higher rents. Occupancy increased 80 basis points to 96.1%. Rental rates for new leases rose 15.6%, while those for renewals increased 7.3% for the quarter.
This is a difficult time to be a REIT in the shopping mall industry. The online shopping boom has caused mall traffic to decline, which is a worrisome trend for mall REITs. Indeed, some of Kimco's retail tenants include Sears (SHLD), Kmart, and JC Penney (JCP), all of which are closing stores. Fortunately, Kimco has a diversified tenant portfolio, and new store openings from its more successful tenants has more than offset store closures from troubled retailers. Kimco still expects more than 3,000 net new store openings in 2018.
Kimco is also utilizing a disposition strategy, to rid itself of non-core properties that are not critical for the future growth of the company. It will simultaneously use proceeds from asset sales to pay off debt and reinvest in better locations. For example, during the first quarter, Kimco disposed of 21 shopping centers, for proceeds of $210 million.
These efforts have worked well for the company, as Kimco has a relatively healthy balance sheet for a REIT. It has a credit rating of BBB+, which is well into investment-grade territory, and an average debt maturity over 10 years.
Kimco's dividend, currently at $1.12 per share annually, is sufficiently covered. Based on 2018 FFO expectations of $1.44 per share, the dividend appears secure. In addition, the stock is cheap, at a price-to-FFO ratio of 11.7. Even if the valuation stays where it is, 3%-4% annual FFO growth and the 6.7% dividend yield result in total annual returns of 10% for Kimco stock moving forward.
High-Yield Stock #2: L Brands (LB)
L Brands is a specialty retailer, with a variety of brands including its flagship Victoria's Secret. L Brands also operates PINK, Bath & Body Works, La Senza, and Henri Bendel.  It has more 3,000 company-owned specialty stores in the U.S., Canada, the U.K. and Greater China.
Like Kimco, L Brands has struggled from the onset of online shopping. With a heavy presence in malls, L Brands has suffered from the decline in mall traffic, as more consumers shift their shopping to e-commerce sites like Amazon (AMZN). L Brands stock has declined 49% year-to-date.
Fortunately, L Brands' first-quarter earnings report showed signs of stabilization. Revenue of $2.63 billion increased by 7.8% year-over-year, while comparable sales rose 3% for the quarter. By operating segment, comparable sales increased 1% at Victoria's Secret, and 8% at Bath & Body Works. However, the company also reduced guidance for the full-year. L Brands now expects earnings-per-share of $2.70 to $3.00 this year, down from a previous range of $2.95 to $3.25 per share.
That said, L Brands still has long-term growth potential. One major growth catalyst is the direct-to-consumer channel, which has been growing at a high rate for L Brands in the past five years.
Direct channel sales are now above $2 billion and are growing operating profit above 20% per year. Direct-to-consumer sales increased 24% last quarter, after an 18% increase in 2017.
Until L Brands' turnaround materializes, investors have an opportunity to buy the stock on the cheap. Shares trade for a price-to-earnings ratio of 10.8, based on 2018 earnings guidance. In the past 10 years, L Brands stock traded for a price-to-earnings ratio of 17.0. Returning to the fair value estimate would generate annual returns of 9.5% just from expansion of the price-to-earnings ratio.
In addition, the company is expected to grow earnings by 5% per year. Combining the 7.8% dividend yield to valuation changes and earnings growth, total annual returns for L Brands could exceed 22% per year.
High-Yield Stock #1: CenturyLink (CTL)
As of today, the highest-yielding stock in the S&P 500 is telecom giant CenturyLink, which has a current yield of 11.9%. CenturyLink's sky-high yield is the result of a falling stock price—shares have declined 21% in the past one year. The company entered a deep downturn a few years ago, as its legacy hardline businesses deteriorated. In response, CenturyLink has invested in growth initiatives, such as the huge $24 billion acquisition of Level 3 Communications in 2017. This has helped CenturyLink catch up in higher-growth areas, such as business telecommunication services.
The Level 3 acquisition helped CenturyLink grow first-quarter revenue by 41%. However, the acquisition didn't come cheap—CenturyLink incurred $13 billion of debt to help finance the acquisition. The company now has $36.9 billion of long-term debt on the balance sheet, compared with just $501 million of cash and cash equivalents.
Investors should be aware that such a highly-leveraged balance sheet could burden the company going forward, particularly if interest rates are on the rise. Higher interest rates will raise CenturyLink's cost of capital for floating-rate debt and new issuances down the road. The company is hoping the acquisition and related cost cuts will generate enough cash flow to support its debt obligations and allow it to maintain the dividend. CenturyLink generated $941 million of free cash flow in the first quarter.
With an annualized dividend of $2.16 per share, CenturyLink is expected to have a dividend payout ratio above 100% for 2018. The company is expected to generate earnings-per-share of $1.15 this year. Investors should approach the stock with caution, as a payout ratio above 100% and a high level of debt on the balance sheet are causes for concern.
That said, if the company can grow earnings at a high enough rate to avoid a dividend cut and pay down debt, the stock could be a bargain. CenturyLink shares trade for a price-to-earnings ratio of 15.7. In the past 10 years, the stock traded for an average price-to-earnings ratio of 12.8. If the stock returned to this level, it would reduce annual returns by 4% per year.
Still, earnings are expected to grow at a nearly 7% annual rate over the next five years. In addition to the 11.9% dividend yield, earnings growth and dividends could supply annual returns above 18%. Accounting for valuation changes, CenturyLink shares could return approximately 14% per year over the next five years, if the turnaround goes according to plan.
Note: This article was contributed to Modest Money by Sure Dividend. 
Category: Dividend Yield
The author of this article is a contributor to Modest Money.