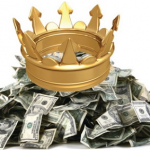 Tim Plaehn has just discovered some unsettling news about the future of stock market returns over the next ten years, and your ability to comfortably retire could be in jeopardy if the right precautions are not taken. Read today's article to find out if your investments are at risk and see Tim's three recommendations for building a portfolio that creates lasting long-term wealth.
It's starting to feel like 1999 in the stock market. Investors are excited about and driving up the share prices of stocks that have great stories but low, no or negative profits. These parabolic share prices are likely to eventually crash. The financial advisor advice route of ETF asset allocation is also destined to not produce the returns. These two future investment strategy failures leave dividend-focused investing as the best strategy to generate wealth from the stock market over the next decade.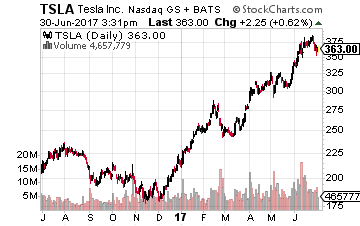 Let's start with the current generating of high-flyer stocks. These are the ones that investors buy based on the expectations of great future profits. The most obvious example is Tesla Inc (NASDAQ: TSLA). This stock is up 90% in the last eight months. TSLA now has a market cap greater than Ford or GM. Tesla is also a company that has lost $1 billion over the last year, and the more revenue grows, the bigger the losses. Another example is Salesforce.com, Inc. (NYSE: CRM), which is up 26% or three times the stock market averages so far in 2017.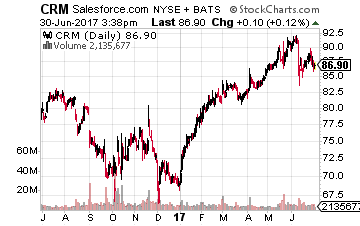 CRM trades at a 450 P/E. Investors also expect a lot from Amazon.com, Inc. (NASDAQ: AMZN) with a P/E of almost 200. History has repeatedly shown that even if these companies continue to grow, the high valuations will at some point lead to steep share price declines. The best case is years of a flat share price while earnings catch up with the current overheated valuations.
There are other indications that point to lower stock market returns. The Cyclically Adjusted Price Earnings or CAPE ratio developed by developed by Nobel laureate Robert Shiller. The ratio is the price-earnings ratio based on the earnings of the last 10 years. Shiller's research has shown that the CAPE will eventually revert to its long-term average. That means that when the CAPE is low, stocks should do well for the next decade, and if the CAPE is high, stock returns will be lower in the future. Schiller had divided the next 10-year returns based on the monthly CAPE into quintiles or fifths. Here is the chart showing those quintiles: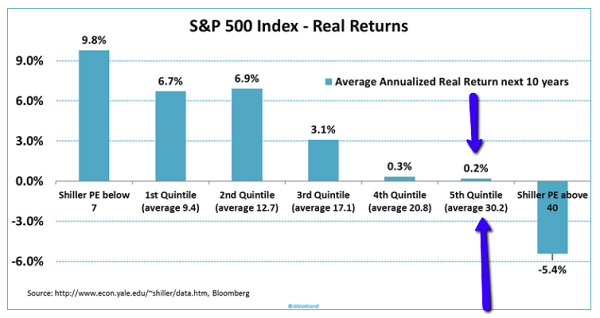 The current CAPE ratio is 29, which points to the probability of the stock market as a whole generating a zero percent real positive average return over the next decade. That is not the expected outcome of investors who follow financial advisor advice and put their money into index tracking ETFs. A note from a value oriented money manager crossed my desk, and this quote sums up his expectations: "To me the stage is set for permanent losses of capital for most market participants.  Those seemingly innocuous allocations to that ETF or index fund where zero attention is paid to price, ends up being that large mistake which sets you back a few years on your retirement goals."
With the two most popular stock market strategies pointing investor portfolio losses, or at best, no gains for the next 10 years, I recommend a significant allocation into high-yield stocks. If you own stocks that pay an average 8% dividend yield, and the market is flat for the next decade, that 8% per year is going to give you much more wealth compared to the returns from index tracking funds. Reinvest those dividends and the compound growth will definitely move you along the path to reach your financial goals.
Here are three stocks with yields over 8% with dividends that are sustainable and have the potential to grow over time.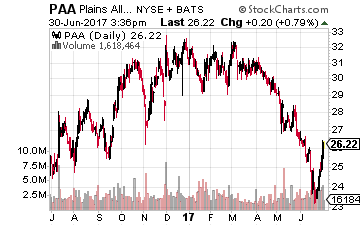 Plains All American Pipeline, L.P. (NYSE: PAA) is a large-cap, investment grade crude oil pipeline and storage MLP. PAA has been a consistent and generally growing dividend payer since it went public in 1999. MLPs provide necessary energy infrastructure services that will see demand growth along with U.S. crude oil production growth. Plains GP Holdings LP (NYSE: PAGP) shares pay the same dividends as PAA, but tax report on Forms 1099. PAA is a Schedule K-1 reporting partnership. PAA and PAGP yield 8.5%.
Starwood Property Trust, Inc. (NYSE: STWD) is a finance REIT that originates commercial mortgages and retains the loans in its own portfolio. STWD has proven its ability to grow revenue and cash flows through a range of interest rate conditions. The stock currently yields 8.5%.
Uniti Group Inc. (Nasdaq: UNIT) is a REIT that owns fiber landline and cell tower telecom assets. Those assets are leased to telecom service providers on long-term, up to 20-year leases. Uniti Group has steadily acquired additional assets and companies to build out and diversify its network. UNIT shares currently yield 9.6%.
Note: This article originally appeared at Investors Alley.
Category: Dividend Yield