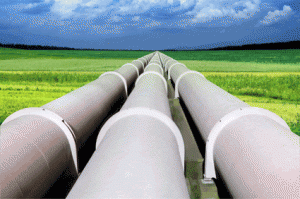 After two-and-a-half years of giving income investors false hopes of a recovery, the energy infrastructure sector is now ready to stage a sustained positive price trend. Investors are renewing interest in these sectors. Now is the time to buy into these companies for attractive current yields, dividend growth and price appreciation.
Energy infrastructure (also called energy midstream) companies provide the assets and services which move energy commodities (crude oil, natural gas, refined products and natural gas liquids, also referred to as NGLs) from the production areas to the end users. The assets in the sector include pipelines, storage facilities, processing facilities, and all kinds of terminals. Here are some of the current events that point to higher midstream values as we move further through 2018.
The rise in the price of crude oil has increased investor interest in the overall energy sector. The crude price increase has come even as U.S. crude oil production has continued to climb. The production growth in the Permian oil play is well covered, and higher oil prices will result in more drilling in other production areas. Coverage of the energy sector by the financial news outlets is growing.
A recent Wall Street Journal article, Is the U.S. Shale Boom Hitting a Bottleneck, highlighted the need for even more pipelines to move crude oil and natural gas out of the Permian.
Over the last two years, the midstream energy companies were forced to rethink their financial structures and how they managed their balance sheets. There have been distribution rate reductions, but most of those are now history. At this point the payouts from the larger companies are secure and investors can look forward to future dividend growth. Current yields are very attractive.
Companies will be releasing first quarter earnings reports over the next few weeks. I expect most of the reports to exceed Wall Street analyst forecasts, which will allow the recent upward price trend to continue.
Prior to 2015, the master limited partnership (MLP) was the prevailing business structure for energy midstream companies. Through the energy sector bear market, several companies have changed structures. Now the sector is close to a balanced mix of MLPs and corporations. At the present time, the higher yields come from the MLPs. This means these companies have more upside price potential has yields between them and the corporate shares become similar for companies with comparable business results. Most MLPs report tax information on what's called a Schedule K-1. For my Dividend Hunter subscribers, I search out Form 1099 reporting energy infrastructure investments.
Here are three midstream companies with high current yields, continuing dividend growth, and strong business prospects.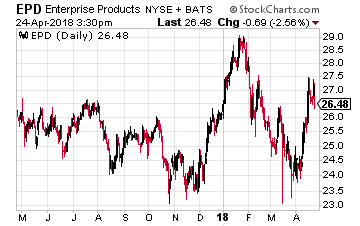 Enterprise Products Partners LP (NYSE: EPD) with a $57 billion market cap is the largest midstream MLP. The company provides the full range of energy infrastructure services. EPD is one of the biggest pipeline service providers to transport crude oil from the Permian to the Texas Gulf Coast. It recently announced that its 416-mile Midland-to-Sealy pipeline is now in full service with an expanded capacity of 540,000 barrels per day (BPD) and capable of transporting batched grades of crude oil.
This company also stands out from the MLP pack by using internally generated cash flow to pay for growth projects. In an era of high equity unit yields, this is a significant advantage.
EPD yields 6.4% and is growing distributions by 2.5% per year.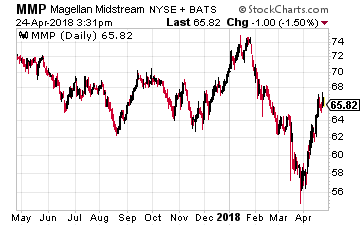 Magellan Midstream Partners LP (NYSE: MMP) primarily owns and operates refined products (gasoline, diesel fuel, jet fuel, etc.) pipelines and storage terminals. The company also owns 2,200 miles of interstate crude oil pipelines. The company provides service to almost 50% of the U.S. refining capacity.
With its $15 billion market cap, Magellan is one of the more stable large MLPs. This is another of a very small number of midstream energy companies that funds growth capital from internal cash flow.
Since its 2001 IPO, this MLP has consistently grown the distributions paid to investors. Over that period, the payouts have grown at a 12% compounding rate. Currently the company forecasts 5% to 8% distribution growth through 2020. MMP currently yields 5.6%.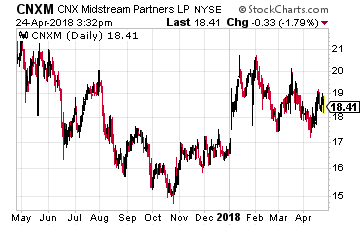 CNX Midstream Partners LP (NYSE: CNXM) owns, operates, develops and acquires gathering and other midstream energy assets to service natural gas production in the Appalachian Basin in Pennsylvania and West Virginia. This MLP primarily provides gathering and processing services to CNX Resources Corp (NYSE: CNX), which is also the sponsor and holds the MLP's general partner interests.
CNXM provides support to the production growth planned and executed by CNX. This $1.1 billion market cap MLP is very separated from much of the drama that has driven MLP values.
At its recent analyst and Investor Day the company affirmed its guidance for 15% distribution growth through 2022. The current yield is 6.9%.
[TRENDING NOW]: This 36-Month Accelerated Income Plan Pays Your Bills For Life
One simple plan takes minutes to set up, yet could pay all your bills for life. No longer will your mailbox be stuffed with 'payment due' envelopes.
This is our most powerful plan we've ever put together…and nearly 7,000 retirement investors have already used its recommendations.
There is still time to start generating $4,804 per month for life…but the window is closing. Click here for complete details.
Category: Dividend Yield