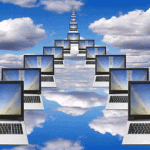 If you could make money every time you sent an email or watched Netflix you would be rich in no time. While that's not possible for you, these three companies actually do get paid every time you use the internet and offer great investment potential right now. 
There's no denying the exponential growth in mobile data, streaming content, big data and cloud computing.
Every time we play Pokemon Go or stream something on Netflix or share photos on Instagram or look up how our stocks are doing, we add to internet traffic.
That trend is unlikely to change any time soon. In fact, according to Cisco System (Nasdaq: CSCO), worldwide internet traffic this year is expected to surpass one zettabyte or one sextillion bytes. The prefix zetta indicates multiplication by the seventh power of 1,000.
And Cisco forecasts internet traffic to double by 2019!
All that increased internet traffic translates into a big-time win for one sub-sector of the REIT universe – data center REITs.
Cloud Computing and Data Center REITs
Of course, it's not just consumer demand propelling demand for data center space. Companies are also doing their part.
Cloud computing and data centers should always be mentioned in the same sentence. That's because the servers that provide the computing power to the cloud aren't housed in "clouds". They are located in data centers.
One can easily see the growth in cloud data center traffic in this chart: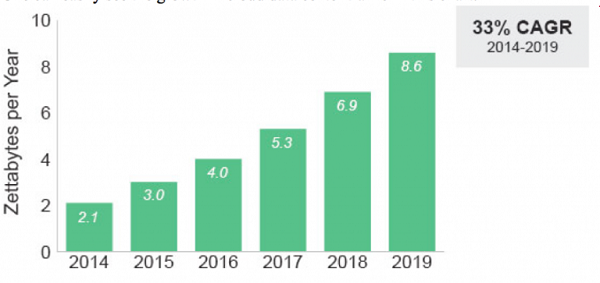 And don't forget that with big data getting "bigger", companies are storing more data. According to a study from market research firm IDC (International Data Corporation), the amount of stored data doubles every two years. And that data is likely stored in facilities owned by data center REITs.
Both of these factors have translated directly into accelerating leasing volume for the handful of companies in the sector.
The Best of the Data Center REIT Universe
Fortunately for investors, the universe of stocks in the data center REIT is very small – there are only six of them.
From the largest capitalization to the smallest capitalization, the list includes: Equinix (Nasdaq: EQIX), Digital Realty Trust (NYSE: DLR), Cyrus One (Nasdaq: CONE), CorSite Realty (NYSE: COR), DuPont Fibros Technology (NYSE: DFT), and QTS Realty Trust(NYSE: QTS).
Foremost among this group of companies are the two largest (by far) of these REITs – Equinix and Digital Realty. Even Amazon.com (Nasdaq: AMZN) – well-known for its Amazon Web Services – is a major customer of both these firms.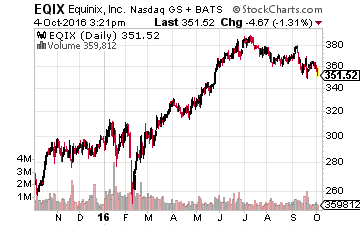 At the top of the list is Equinox (Nasdaq: EQIX), whose stock has jumped by 56% over the last 52 weeks and is a member of the S&P 500 index.
Its global reach is very appealing. Its revenues, from about 9,000 customers, break down this way geographically: Americas (46%), Europe, Middle East & Africa (33%) and Asia Pacific (21%).
Equinix is located in 40 cities around the world and it has 146 global data centers, with 14.5 million square feet of space.  It is the global leader in interconnection services, which allow companies to connect directly with each other if they so wish. Its reliability rate is 99.9999%, which translates to less than 32 seconds per year of downtime.
The only negative at the moment is that its yield of 1.95% is the lowest in the sector.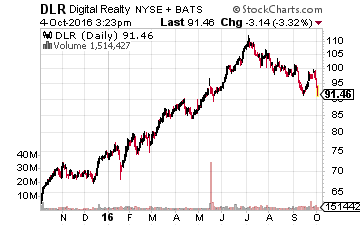 Next on the list is Digital Realty (NYSE: DLR), whose stock is up 45% over the past 52 weeks.
The company actually has more data center square footage than Equinix, with 22.8 million square feet. And it too has global reach. Digital Realty has 156 data centers, located in 14 countries.
The acquisition of Telx in October 2015 began a changeover in the company's focus. Instead of being entirely a wholesale landlord of data centers, the purchase of Telx moved it into the world of interconnection and colocation in a major way.
So in effect, the company is moving away from the DuPont Fibros model and towards a model more similar to that of Equinix.
Finally, Digital Realty's yield is much more appealing than Equinix's, at 3.7%.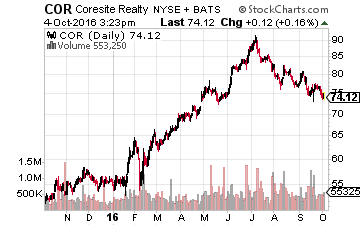 Among the smaller data center REITs, a good choice is CorSite Realty (NYSE: COR), whose stock climbed 41% over the past 52 weeks. Its dividend yield is in between the two big players, at 2.85%.
The company focuses on the interconnection market, but is only located in eight North American markets with about 900 customers.
However, CoreSite is growing quickly. It reported record leasing in 2015, signing more than 500 leases for roughly 400,000 square feet of data center space. Those leases added nearly $50 million in revenue in 2015. The trend continues in 2016. In the second quarter, CoreSite signed a record 171 leases representing $7.7 million of rents.
With no end in sight in the move toward big data, data storage and cloud computing, these three data center REITs offer dividend investors a great way to play the trend while pocketing some income.
Note: This article originally appeared at Investors Alley.
Category: Dividend Stocks