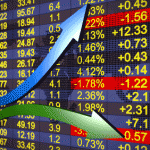 Add some security to your portfolio by purchasing any of these three solid dividend stocks that would hold up well if the Trump trade starts to fade. Now might be the best time to take some profits and reinvest them into these attractive and safe dividend stocks.
U.S. stocks have been sinking as the Donald Trump euphoria wears off.
This comes as the market has gotten a glimpse at how future regulation under Trump may look.
Trump's proposed replacement for Obamacare, the American Health Care Act, failed to get enough votes in the Republican-led Congress. And the key takeaway is that a Trump dump could be starting as the hurdles in Washington D.C prove cumbersome for the markets. The S&P 500 recently had its largest one day drop since October.
Much of the market rallied following the election, generating a Trump bump given his pro-growth policies — including more infrastructure spending, tax cuts and deregulation. Yet, it now appears all of those might be harder to jumpstart than expected.
And there's more, economic growth also appears to be slow. Gross domestic product for the first three months under Trump came at a mere 1% annualized. That's well-off Trump's 4% growth target and less than half the growth we saw in the second half of 2016.
The market is admitting that the short-term outlook remains questionable, at best. Thus, we've looked for names that can still outperform in a Trump dump. These are dividend stocks trading at an attractive valuation, have low payout ratios and are less volatile relative to most stocks.
Here are the top three stocks for a Trump dump:
Trump Dump Dividend No. 1: Home Depot (NYSE: HD)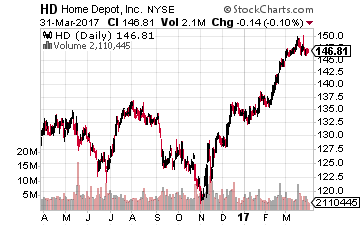 The beauty of Home Depot is that it doesn't need Trump. Home Depot can continue riding the growing housing market. This comes as housing market conditions continue to strengthen thanks to rising rates.
That's right, rising rates have become a catalyst for boosting the housing market. The recent upward move in rates is helping to push individuals and families off the fence about buying a home. They're looking to buy instead of rent before rates go up even more. And there could be a lot of pent-up demand, as 60% of those aged 18-35 are living with parents and roommates — that's a 115-year high.
As well, driving Home Depot isn't just housing, but also a strengthening job market. Employment continues to remain strong, Unemployment has gone from nearly 10% during the financial crisis to under 5% today. More jobs mean more money to spend on housing.
Home Depot pays a healthy 2.4% dividend yield and now has a four-year streak of consecutive dividend increases under its belt. That dividend is also just a 50% payout of its earnings. Compared to its top competitor, Lowe's (NYSE: LOW), Home Depot offers the superior dividend and returns on equity, yet has underperformed so far in 2017.
Trump Dump Dividend No. 2: Corning (NYSE: GLW)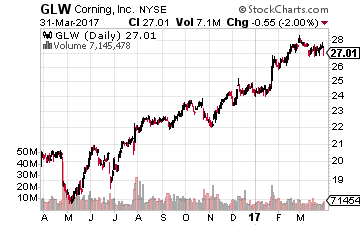 Corning is a leader when it comes to glass, being a key supplier for smartphone makers like Apple (NASDAQ: AAPL). Corning is also an underrated player in the fiber optic cable market. It was a big business before the Internet bubble burst of the 2000s, but is finally making a comeback as there is a renewed push to build out faster fiber networks.
Then there's perhaps its greatest growth opportunity — the auto industry. Corning is looking to rollout Gorilla Glass for cars. This would help boosting fuel efficiency and safety by making cars lighter and stronger. Then, of course, there's the potential for figuring out how to help mesh two of its hottest markets — smartphones and autos — helping enable smart-phone connectivity for cars.
This innovator is paying a 2.3% dividend yield and has six years of consecutive dividend increases after upping the quarterly dividend by 15% recently. Its dividend is a modest 37% payout of earnings.
Part of what makes Corning unique is that it's trading at just 15 times next year's earnings meaning it's relatively cheap and only has a 25% debt-to-equity ratio. That's a stellar balance sheet. Plus, it has a 22% return on equity — one of the industry's tops.
Trump Dump Dividend No. 3: Honeywell (NYSE: HON)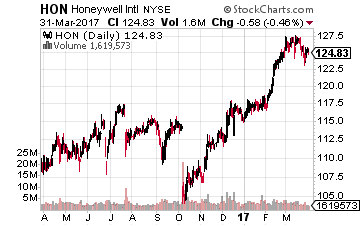 Honeywell is one of the industrial and manufacturing parts leaders, serving various industries including aerospace and home building. It's also very aggressive when it comes to rewarding shareholders, planning to return $6 billion to shareholders via dividends and another $6 billion via buybacks in the near-term — roughly 13% of its market cap. By comparison, Honeywell spent just $2 billion in dividends and $2 billion in buybacks last year.
The industrial giant also got a new CEO at the end of March who is putting a renewed focus on growing the company's digital and technology presence. That includes focusing on the higher-margin software and technology business, believing it can grow the software segment in the double-digits for many years. It has a big opportunity here to capitalize on the industrial Internet-of-Things market.
Dividend wise, Honeywell pays a 2.1% dividend yield, just a 50% payout of earnings. It's managed to up its annual dividend for six straight years.
In the end, reality is quickly converging with perception when it comes to what Trump can get done. And the reality is that we could see a continuation of the Trump dump. Meaning, under-the-radar dividends like that of Home Depot and Corning could do well despite Trump's troubles.
Stocks like the three above will always be safe choices for your investments, but their dividends will never be big enough to create an income stream for most people. That's why I tend to zero in my research on stocks with a high current yield and the potential for dividend growth. This is an integral part of my income investing strategy that I share in my newsletter, The Dividend Hunter.
The Dividend Hunter is my forum for sharing the market's strongest, most stable high-yield dividend payers, and there are over 20 high-yield stocks currently available through my Monthly Dividend Paycheck Calendar system for generating a high monthly income stream from the market's most stable high-yield stocks.
Note: This article originally appeared at Investors Alley.
Category: Dividend Stocks To Buy?