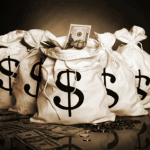 Dividend stocks aren't usually known for bringing quick and large gains to your portfolio, but these 3 stocks are different. With high yields and strong dividend growth prospects, these not-so-boring dividend stocks could bring income and share price growth to your portfolio.
After a six-year bull market run, the stock market took a breather in 2015. It will be a year branded by high volatility, but in the end, the S&P 500 finished the year with a minus 0.73% price return and a small 1.38% total return with dividends included. With share prices that peaked early in the year for several market sectors including REITs and energy, the results from 2015 feel and look a lot worse for a lot of us.
What we as investors often don't see is the tremendous return differences between different market sectors and subsectors. Over the last 10 years, each year the average return difference between the best and worst performing sectors has been greater than 30%. Even inside of the larger sectors, there will be tremendous differences. For example, in 2015 the energy sector was at the bottom of the performance list, down 23.6% for the year. Yet the Oil and Gas Refining and Marketing subsector posted a positive 24.6% return. Low energy prices are good for this group of energy companies. For income investors, the worst performing sectors of energy, financials, and utilities are the homes for the majority of high yield stocks. As we move from year to year, the worst performing sectors typically move up in the rankings in the following year and the best-performing sectors will move down.
In 2016, I am looking for another flat performance for the overall market. With the economy stuck in a 2% annual growth mode, it's hard to foresee a set of factors that would produce the types of broad-based stock market returns investors desire. There will be money to be made (as there always is) with individual stock picks. There are several themes and stocks that I will be following and analyzing for the opportunity to earn outsized returns in 2016.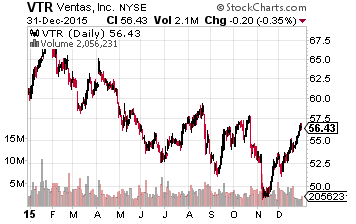 In August 2015, healthcare REIT Ventas Inc. (NYSE: VTR) spun-off its skilled nursing facility (SNF) holdings into a new company, Care Capital Properties Inc. (NYSE: CCP). Post spin-off, VTR is now paying a lower dividend rate and did not increase the dividend in December, which has been the company's historic time to announce a payout boost. Without the SNF holdings, Ventas should be able to grow cash flow at a faster rate than the 8% to 9% of recent years. If the company can now become a double-digit dividend grower, that growth combined with the current 5.2% yield should result in mid to high-teens total annual returns for investors.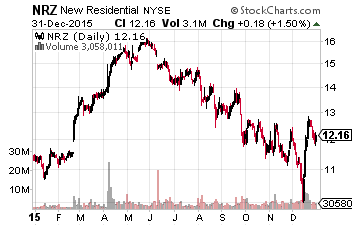 New Residential Investment Corp (NYSE: NRZ) gets lumped together sector-wise with the residential mortgage REITs. This group is and will see their profits hammered by a flattening of the yield curve as the Fed raises short-term interest rates. New Residential is not a mortgage securities investment REIT and has a business model that will grow cash flow as rates increase. In 2015 the company bought up its only competitor for mortgage servicing rights and increased its dividend twice by a total of 21%. Yet, the market has priced NRZ to yield over 15%. This stock "should" be priced to yield 8% to 9% like other high-quality, non-interest rate sensitive finance REITs. To get to that yield, the share price would need to rise by 65%. I think we can get a significant portion of that gain, and in the meantime, I will happily collect a 3.75% dividend every quarter.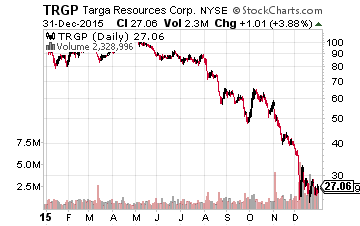 In the energy sector, midstream services company Targa Resources Corp (NYSE: TRGP) has been one of the hardest hit, losing 80% of its share value since the energy price peak in the Fall of 2014. Yet, this company has continued to raise its dividend every quarter, up 24% in the last year. Targa management has stated that the company can grow the dividend by 15% per year for at least the next two years as they wait for energy commodity prices to recover. The market does not believe management and TRGP yields 13.4%. If the company can hit it its cash flow and dividend growth forecasts, Targa Resources may end up as the poster child for the decline and recovery of the midstream energy sector.
The three stocks above range in order from conservative to speculative. Each has a story that could produce market-beating returns if the discussed scenario comes to pass in 2016 and beyond.
Another strategy I use to great success is finding companies that regularly increase their dividends. This is the strategy that I use myself to produce superior results, no matter if the market moves up or down in the shorter term. The combination of a high yield and consistent dividend growth in stocks is what has given me the most consistent gains out of any strategy that I have tried.
And, there are currently over twenty of these stocks to choose from in my Monthly Paycheck Dividend Calendar, an income system used by thousands of dividend investors enjoying a steady stream of cash.
The Monthly Dividend Paycheck Calendar is set up to make sure you receive a minimum of 5 paychecks per month and in some months 8, 9, even 12 paychecks per month from stable, reliable stocks with high yields. If you join my calendar by Tuesday, January 5th you will have the opportunity to claim.
The Calendar tells you when you need to own the stock when to expect your next payout, and how much you can make from stable, low-risk stocks paying upwards of 12%, 13%, even 15% in the case of one of them. I've done all the research and hard work; you just have to pick the stocks and how much you want to get paid.
The next critical date is Tuesday, January 5th (it's closer than you think!), so you'll want to take action before that date to make sure you don't miss out. This time, we're gearing up for an extra $1,796.50 in payouts by February, but only if you're on the list before the 5th. Click here to find out more about this unique, easy way of collecting monthly dividends.
Position: Long VTR, NRZ, TRGP
This article was originally published in Investor Alley on January 3, 2016.
Category: Dividend Stocks