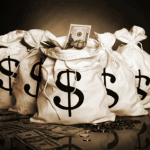 An increasing dividend combined with an attractive yield will produce a growing cash income stream and capital gains that are an unmatched tool for increasing your wealth. These two stocks are perfect starting points for investors looking to earn an accelerating income stream and market-beating returns.
To call the stock markets "choppy" so far in 2016 would be a tremendous understatement. I talk to many investors who are having a hard time deciding whether to buy, sell, or stay on the sidelines. In this type of market, it is nearly impossible for an individual investor to time investments and "buy low and sell high," to book some attractive profits. This is one of the reasons that I stick to a higher-yield dividend-focused investment approach.
Like many successful endeavors, my dividend strategy is based on a simple concept, but it can be and is difficult to put into action. The strategy comes from the idea that stocks that increase their dividends year after year will generate both total returns from share price appreciation and a growing cash income stream. For me, the most important step is to invest in stocks where there is a high probability of future, continuing dividend increases.
The details of which stocks to pick get tougher. One option is to go with higher-yield stocks where the expected dividend growth rates are low. For example, a stock like Ship Finance International Limited (NYSE: SFL) will grow its dividends by 2% to 6% per year, but investors get a 12% current yield. To further improve total returns from a stock like SFL, all or a portion of those big dividend payments can be reinvested to generate a growing dividend stream. Taking 8% as cash and reinvesting the other 4% would boost the realized dividend growth rate into the high single-digits, well above current inflation.
Another approach is to invest in stocks with high dividend growth rates and relatively low current yields. Tallgrass Energy GP LP (NYSE: TEGP) has the potential to produce up to 40% annual dividend growth over the next few years, and the stock yields 4%. These two stocks are examples of the extremes in the dividend growth picture.
Related: How to collect $3,594 on average for every month in 2016.
While I have confidence that both SFL and TEGP will be able to grow dividends going forward, there is a lot of variability in where the actual growth rates will land. I put these two towards the riskier end of the universe of dividend stocks I analyze. However, if they do meet growth expectations, investors will be rewarded with returns well above the stock market averages.
More conservative investors can find stocks with very high visibility towards future dividend growth rates. As an example, there is a very high probability that Realty Income Corp (NYSE:O) will continue its decade long run of 5% to 6% annual dividend increases. However, the income and safety investing community are very aware of the Realty Income track record and the shares currently yield just 3.8%. That's a higher yield than normal blue chip corporate shares with lower growth rates, but a relatively low yield compared to dividend growth stocks that are just a step or two up on the risk ladder.
Here are two stocks that offer attractive yield and dividend growth profiles at the opposite end of the spectrum of the yield and growth combination.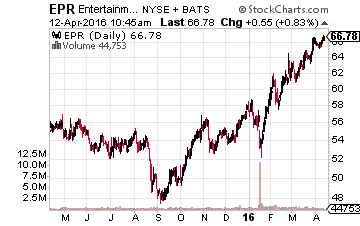 EPR Properties (NYSE: EPR) is a real estate investment trust (REIT) that owns and leases out cinema complexes, specialized entertainment facilities (TopGolf and urban ski centers), and facilities for charter and private schools. The mix of businesses is well balanced and has allowed EPR to grow dividends by about 7% per year.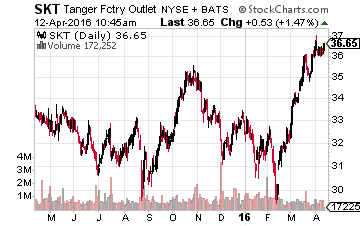 Continued future growth prospects are very solid and the historic dividend growth rate should continue. With a current 5.8% yield, EPR is a better paying monthly dividend alternative to Realty Income.
Tanger Factory Outlet Centers Inc. (NYSE: SKT) is a shopping center REIT with 26 years of uninterrupted dividend growth. In recent years, SKT has accelerated its dividend growth into the mid-teens. This is a very high-quality and well-run REIT. My analysis from early in the year produced a 13.8% dividend growth forecast this year. The company just announced a 14% increase for the dividend to be paid in May 2016. SKT yields 3.1%. The returns from this type of dividend stock will come from a rising share price to match the dividend growth rates, with the actual dividends coming in as a bonus return kicker.
Finding stable companies that regularly increase their dividends is the strategy that I use myself to produce superior results, no matter if the market moves up or down in the shorter term.
The combination of a high yield and regular dividend growth is what has given me the most consistent gains out of any strategy that I have tried over my decades-long investing career.
And, there are currently over twenty of these stocks to choose from in my Monthly Paycheck Dividend Calendar, an income system used by thousands of dividend investors enjoying a steady stream of cash.
The Monthly Dividend Paycheck Calendar is set up to make sure you receive a minimum of 5 paychecks per month and in some months 8, 9, even 12 paychecks per month from stable, reliable stocks with high yields.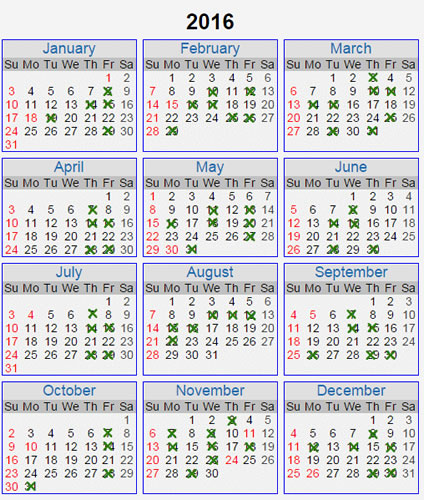 If you join my calendar by
Tuesday, April 19th
you will have the opportunity to claim
an extra $3,968.30 in dividend payouts in May.
The Calendar tells you when you need to own the stock, when to expect your next payout, and how much you can make from stable, low-risk stocks paying upwards of 12%, 13%, even 15% in the case of one of them. I've done all the research and hard work, you just have to pick the stocks and how much you want to get paid.
The next critical date is Tuesday, April 19th (it's closer than you think), so you'll want to take action before that date to make sure you don't miss out. This time, we're gearing up for an extra $3,968.30 in payouts in May, but only if you're on the list before April 19th. Click here to find out more about this unique, easy way of collecting monthly dividends.
Category: Dividend Stocks To Buy?