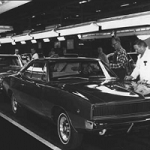 Nothing fancy, just solid businesses that print more cash every year and pass it on to their share holders. Invest in these two stocks for a safe and steady rising dividend that will increase often and build your wealth. 
Wall Street is sort of like Baskin-Robbins, with its 'flavor of the month".
Dividend-paying stocks, bond proxies, were all the rage earlier this year. But now, with the election of Donald Trump as President, the new "flavor" is reflation. Stocks that will benefit from supposedly faster economic growth are in, and dividend stocks have been tossed into the dumpster.
But that doesn't mean you should follow the latest Wall Street fad. It's fine to have some stocks that will benefit from reflation. But you should not dispose of your dividend-paying stocks. Instead, these types of stocks should form a key, lower-risk component of your overall long-term portfolio.
In particular, investors should be on the lookout for companies that have the nice habit of raising their dividends. When companies raise their payouts consistently, it shows they are financially healthy and likely have a steady cash flow.
Brookfield Asset Management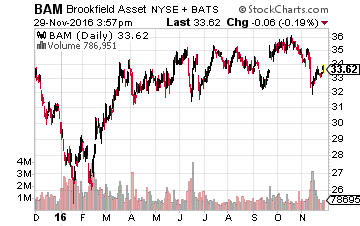 Along those lines, I'm going to discuss two limited partnerships that are under the umbrella of Brookfield Asset Management (NYSE: BAM).
For those of you unfamiliar with Brookfield, it is a Canadian alternative asset manager with over $250 billion under management. It got its start more than a century ago, helping to launch Brazil's first electrical and transport utility in 1899, which led to it getting listed on the Toronto Stock Exchange in 1912.
Ever since, Brookfield has focused on alternative assets including real estate, alternative energy and infrastructure. Today, it is one of the world's largest, and probably most respected, managers of these types of assets.
Brookfield is known as a value manager with a contrarian point of view. Its CEO, Bruce Flatt, often vies with Prem Watsa of Fairfax Financial (OTC: FRFHF) for the title of the "Warren Buffett of Canada". Since he became CEO in 2002, his shareholders have enjoyed total returns in excess of 1000%!
Brookfield itself also has a history on increasing dividends, but the yield is small at only 1.55%. The much better yields are with its subsidiaries.
Brookfield Infrastructure Partners
The first of these is Brookfield Infrastructure Partners L.P. (NYSE: BIP).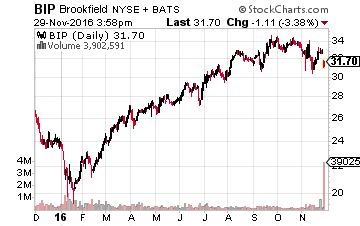 It is involved in four sectors: utilities, transportation, energy and communications infrastructure. Its assets are spread throughout the world including the United States, Canada, Australia, India, Europe and South America.
BIP transmits electricity to 98% of the population of Chile, has natural gas pipelines and storage facilities across North America, handles over 20% of all seaborne metallurgical coal from Australia, has 10,000 kilometers of rail globally, has 3,600 kilometers of highways around the world, and has more than 10,500 kilometers of electrical transmission lines in the Americas. There's a lot more too that can be seen in the company's latest investor presentation.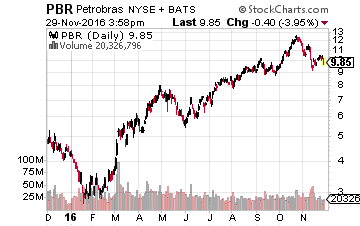 When you look at the presentation, don't fail to notice the value investing approach coming through. BIP is in the process of closing on a deal to buy a massive natural gas distribution network from the distressed Brazilian oil giant Petrobras (NYSE: PBR).
All of BIP's businesses are doing well. That has led to strong, double-digit growth in AFFO/share. That is a limited partnership's equivalent of free cash flow and what ultimately funds the payouts.
The management has a target of 5% to 9% CAGR distribution growth. But luckily for shareholders, it has a habit of beating that target. Distributions have increased on average 12% annually since inception in January 2008. That is one reason why BIP has, since its IPO, shown an annualized total return of 18%.
Its current yield of 4.75% looks very safe. Based on the past quarter's FFO of $0.68, BIP is paying out only 57% of FFO to shareholders. That leaves lots of room for another increase in the payout.
And it's relatively cheap, trading at only 12 times the year-to-date rate of funds from operations.
Brookfield Renewable Partners
The next one in the Brookfield stable is Brookfield Renewable Partners L.P. (NYSE: BEP).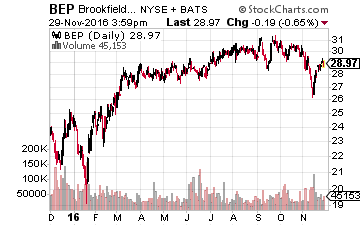 It owns and operates one of the world's largest independent renewable power businesses. It has 260 generating facilities across 15 markets in North America, South America and Europe with 10,700 megawatts of installed global capacity.
This investment is especially timely too. With the Trump election, everything with "renewable" in its name was sold off heavily. That pushed the current yield up to 6.10%.
I suspect that many of the sellers didn't even know that the company is the global leader in hydroelectric power, making up more than 88% (the rest is wind) of its power portfolio; and it is located in 82 river systems around the world.
Its main geographic focus is North America with 65% of its generating capacity. But that shouldn't be a worry. As far as I know, President-elect Trump is not opposed to running water.
The company targets a payout ratio of about 70% of FFO. Once again, management targets annual distribution increases of 5% to 9%.
And like its brethren, BEP has grown its distribution for six consecutive years. That's likely due to the fact that its cash flows are 90% inflation-linked to escalations on contracted revenue streams that are, on average, about 16 years in length. BEP also places a focus on the creditworthiness (usually investment grade) of its contractual counterparties.
It would not surprise me if BEP delays increasing its payout for a few months. It is still assimilating the $2 billion purchase of the Colombian renewable energy firm, Isagen. It generates 16% of the electricity in Colombia and runs the country's largest hydroelectric plant.
But I fully expect the payout increase policy to resume quickly.
BEP's overall performance has been stellar for shareholders. It has been trading in Toronto longer than in the U.S. For those lucky Canadians, annualized total return over the past five years was 17%.
Investors looking for total return could do a lot worse than invest in any company affiliated with Bruce Flatt. Both BIP and BEP offer yield and value.
Note: Tim Plaehn is the lead investment research analyst for income and dividend investing at Investors Alley.  He is the editor for The Dividend Hunter and 30 Day Dividends.
Category: Dividend Stocks